3 New Ways to Book Booths & Tables for Events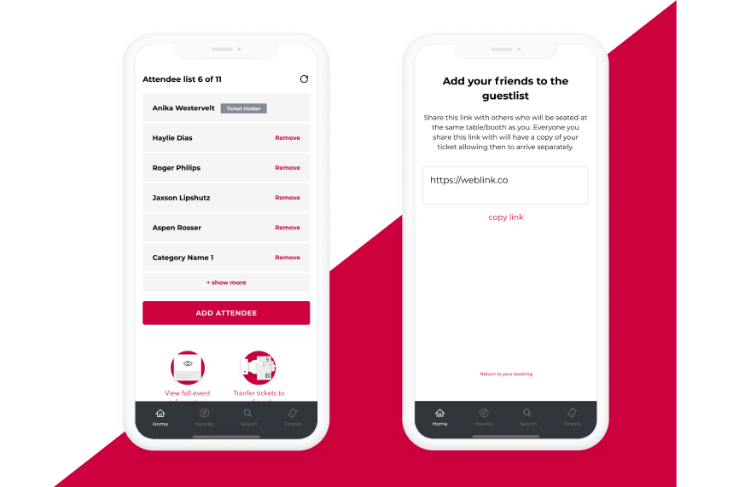 New features make it easier than ever to sell tables, booths and group tickets. Plus, know more about your audience with greater insight into event attendees.
With these features you can:
Specify the number of seats available at a table or booth
Easily set up a group ticket to sell multiple tickets in a single transaction
Ensure attendee information is complete for a table or booth, not only the ticket buyer
A seamless experience from purchase to arrival
Create a table or booth and you can specify the number of seats available to book per ticket.
There's less confusion as ticket buyers can see the number of people who can be admitted per table or booth as well as other information like minimum spend (if applicable).
Event entry is seamless as multi-entry table and booth tickets sync directly with our Entry Manager App. When scanning a table or booth ticket, staff on the door can see the number of people who can be admitted on that ticket and check people in as they arrive.
Hassle-free independent arrival for groups
With other ticketing platforms, when you sell a table or booth ticket which admits a group of people, you may only have the details of the ticket buyer. With our table attendee lists, the ticket buyer shares a link with everyone else on that table or booth ticket. Everyone gets a copy of the ticket and they can choose whether they want to arrive independently or as a group.
A ticket type for every occasion
Group tickets are for occasions where you need to create a block of tickets, like a 3 for 2 ticket offer or a family of 4 ticket.
Creating group tickets is easy. Simply choose how many groups and how many tickets per group when setting up your event. Similar to a standard ticket, group ticket buyers receive a ticket per person for everyone in the group and they can choose to arrive individually or as a group.
This update is live.
Log in to your FIXR account to see it in action.
Not on FIXR yet? Sign up to get started.