10 Reasons To Use FIXR's Entry Manager

We've built our ticket entry app to be (we think) the most powerful in the world! We've rounded up some key features to help you get the most out of our entry manager.
1. Rapid-Scan
Our normal scanning mode is pretty quick, enabling you to admit a ticket every 4 seconds. But if that isn't fast enough, you can employ 'Rapid Scan'. This speeds up the scanning process by auto-confirming single ticket bookings. 2 seconds per scan, that's it.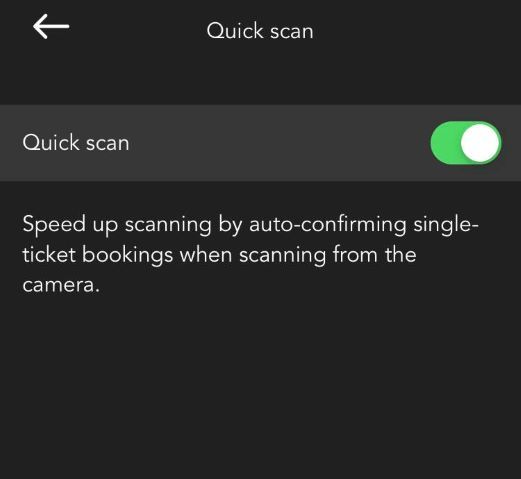 2. Operate Multiple Scanners
For big events with a large number of attendees and entry points, one scanner is not nearly enough. Helpfully, Entry Manager enables multiple devices to simultaneously scan ticket-holders in, helping to cut down queues.
3. Create Access Tokens
Access tokens provide door staff with scanning features, but without giving them access to private data like sales figures and event settings. Door staff simply use the 6-digit code provided by the token to log into Entry Manager and start scannng people in. The tokens are event specific, meaning that door staff will only have access for one event, and you can delete them at any time.

4. Search For Ticket-Holders
If someone has forgotten their ticket, you can simply look their name up and let them in, saving you a lot of grief! This will invalidate their QR code at the same time, meaning that there will be no double entries on a single ticket.
5. Real-Time Ticket Metrics
The Entry Manager app constantly displays current ticket metrics. Check-ins are immediately synced across all scanning devices, meaning door-staff never have to worry about having incomplete or unsynchronized data.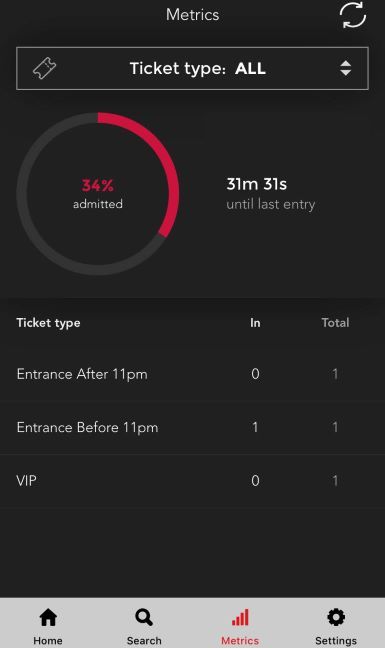 6. Multiple Admissions Under A Single Booking
FIXR only creates one QR code for a group booking, so save yourself tonnes of time by admitting multiple people in one scan. We once had a group of 37 enter together!
7. Admit Some Now, Some Later
Don't make ticket-holders wait for their late friends! Select whether to admit the whole booking or only part of it. If only some of the group are initially admitted, then the QR code will stay active for when the rest of that group arrive. Simply scan the QR code again and select the number to admit. You can do this multiple times so long as there are unused tickets remaining on the booking.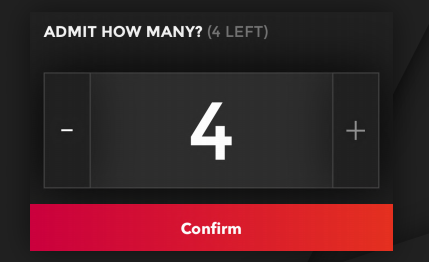 8. Offline Ticket Entry
Don't worry if you won't have internet access whilst scanning, as we've developed an offline mode! Simply select 'Offline Mode', download the list of attendees in advance of the event, and scan from this.
9. Late Entry Ticket Warning
The app will send a warning when a ticket has past its last entry time, allowing you to have full oversight of the scanning process. You can also add a delay to the warning if you want to admit late guests after a specific time.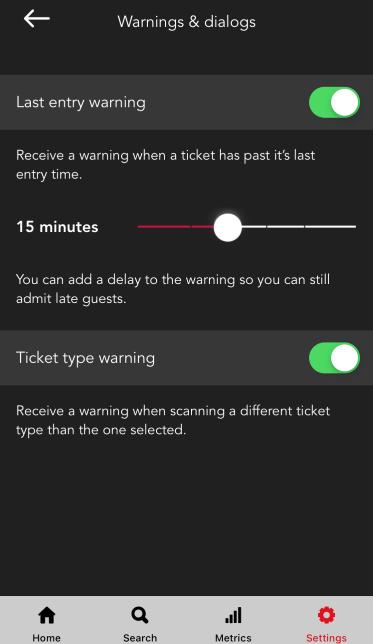 10. Ticket Type Selection
The Entry Manager has been designed to handle the most complicated events. Use our advanced settings to select which ticket types can be scanned by a particular device - allowing you to closely manage attendee entry. This is ideal for a VIP or Q-Jump entrance.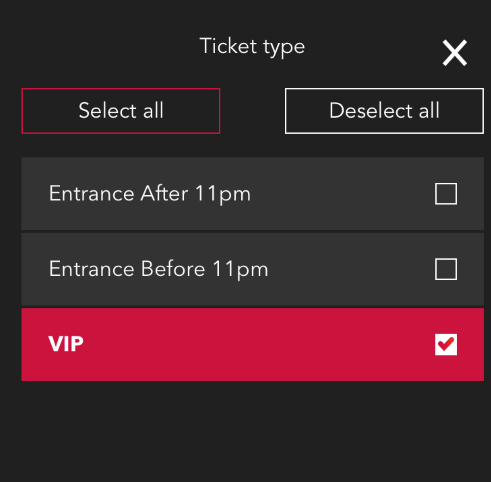 Join the fastest growing ticketing platform in the UK and start selling tickets for free in just 4 minutes.