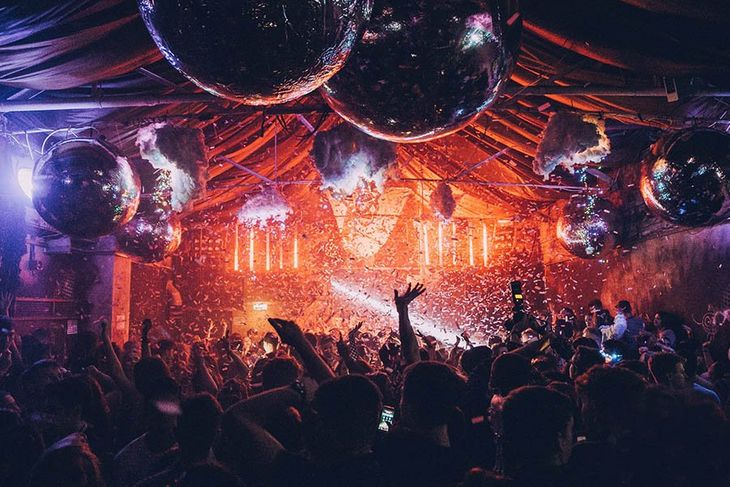 Good Life is known for its standout themes and next level production. From humble beginnings back in Leeds, the brand has gained a huge following, with sellout parties across the UK and its own festival.
We caught up with Louis Jadwat, one of the original founders, on the thought process behind Good Life, their top tips for success in the events industry and thoughts on how to plan for the new event world, post lockdown.

Tell us a bit about your brand and how Good Life started?
Louis Jadwat: I met Will Burbage at Leeds University in 2013 and we co-founded Good Life. At the time we really felt that there was something missing from the club night offering in the city, with most being super commercial or targeted to house/ techno enthusiasts.
We felt there was an opportunity to offer an event with good music that was also accessible to a wider audience, with each event themed to encourage people to drop their inhibitions and experience something new. We focused on incorporating a breadth of new and local artists and performers, covering various genres, to bring local audiences together and drive a sense of community.
What do you think have been the key things that have helped Good Life grow?
It was challenging to sell a concept and production heavy night prior to anyone having attended the first event. We were mainly dependent on our organic reach and flyering. Thankfully the first event went down really well and we got a great response, which then supported the success of the following events. Running Good Life events roughly monthly helped us build hype and anticipation, as we saw students holding out to attend each one. We also really focus on providing event goers with a different experience each time, which I think makes each Good Life event more memorable.
Discovering Beaverworks also allowed us to develop the night into something super unique. The club can hold 2,000 people but the layout provides real intimacy. It's made up of multiple different rooms which means we can incorporate different aesthetics throughout to drive a real festival feel.
In 2014, Will and I went on a year abroad but were still keen to keep Good Life running. We were dependent on friends back in Leeds to run and manage the events (plus a lot of 1am Skype calls) but they absolutely smashed it and it ended up being one of our biggest years.
When we saw the presence of social platforms really start to grow, the production value of Good Life positioned us well for these, especially Instagram. The themes provide some super shareable content which has luckily acted as an additional marketing tool for us.
What was the scene like when you started and how does it compare to now?
The first events were held at Full Circle, an independent venue in Leeds which has sadly closed. The venue had a really personal feel and the level of production at that point was super low compared to what we do now. As Good Life was quite unique to the market when we started, there was definitely less of an expectation around production and decor. However, now we've seen the likes of Elrow absolutely transform the category, there's definitely been an increase in event goers' expectations. This has made the planning and inspiration for each event even more important to ensure we're constantly ahead of the game.
What are the key challenges you guys have faced?
There's a number of things that can go wrong with events, for example, picking the wrong date - you might not realise there's something else happening on the same day that's likely to affect footfall. We previously booked an event that clashed with England playing in the 2018 World Cup, it wasn't something we'd considered during planning so just had to accept we were going to see a drop off. Also something as simple as booking the wrong act for a city or not having the right team in place. With student events, it's massively important to have a strong team on the ground, this is something we always try and ensure through our Student Rep Network.
Which has been your favourite Good Life theme / event so far?
The Pleasure Palace is definitely one of our favourites, we invested massively in production but also kept the decor quite minimal in comparison to what we'd done previously. We focused on providing a real 1980s seedy-New York vibe through neon lights and performers that really took people out of their comfort zones. It was something that we'd seen at larger scale events in cities like London but we really wanted to introduce something new to the student market. Previously a lot of the events we'd run had been quite fabric heavy so it was good to strip things back and take a different approach.
The Mad Hatter's Mansion was also one of our most popular events. I think people like being transported into a world that doesn't normally exist. The themes allow us to really push boundaries - normally the weirder things are, the more popular, so things have just got weirder!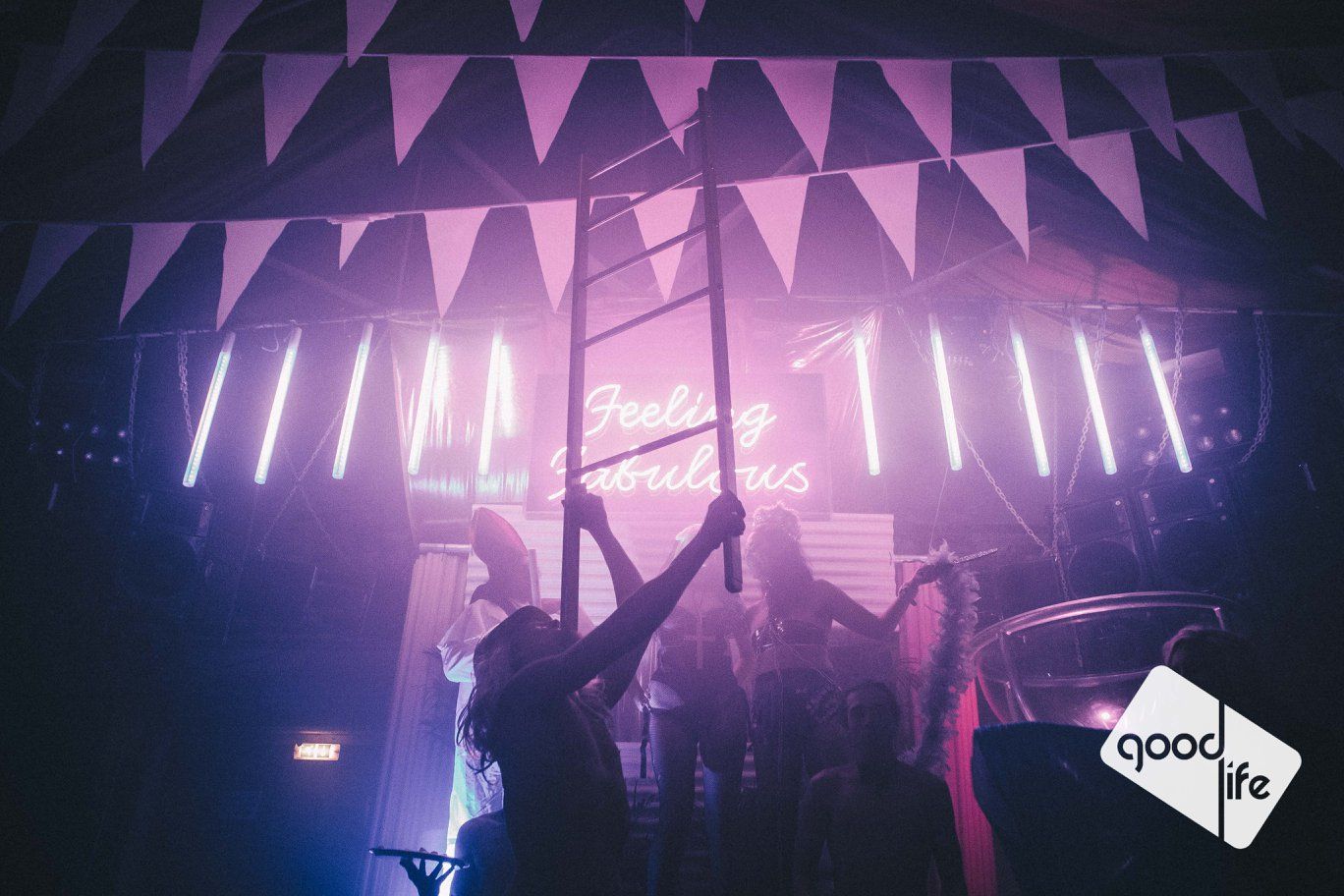 Who have been your most memorable acts to perform at Good Life?
We ran an event at Fabric in London which was a massive landmark for us, we were able to curate a list made up of our favourite artists from over the years to play on the night. Benga was a particular highlight for me as I used to listen to a lot of dubstep when I was initially getting into electronic music. Some of our closest friends also played in the main room on the night which felt pretty incredible as Fabric was one of our favourite venues in London when we were growing up.
We also really enjoy hosting the live bands. Hyde Park Brass in particular always create a really engaging atmosphere with crowds.
How long does it take for you to plan each year's events? What values are important when putting your schedule together and what inspires you?
Originally it was just Will and I that were responsible for all of the planning and execution, so we were managing everything from decor to tickets on the door. Then as things grew, we brought on Isobel Harries as our Production Manager. She was able to focus solely on production and execution, whilst we focused on marketing and promotion, which really allowed things to progress to the next level.
Depending on the scale of each event, we'll have between 8-9 people working on the planning and event build. Planning generally starts around 6 months in advance. We normally look to give ourselves as much time as possible to concept and visualise ideas and to understand how the events will work together throughout the year.
Which organisers / venues are you liking at the moment?
In contrast to Good Life, I also really rate smaller events at more intimate venues, with good sound systems and top production - Pickle Factory in London and Wire in Leeds do this really well.
What's your advice for others that are looking to start running their own events?
Learn to expect the unexpected - we weren't experienced in ticket sales or event promotion prior to running Good Life, so we quickly learnt not to lose sleep over ticket sales as the majority of tickets wouldn't sell until the week before the event.
Try to keep a level head - it's easy to overthink planning and potential outcomes or get carried away after a successful event. The best approach is to remain proactive throughout.
Always try and get feedback - you'll instantly get a feel for how people are responding to the event on the night, we'll also normally review each event as a team after the night itself. This allows us to understand what worked well and was most memorable but also be critical of where we could have done things differently.
Fine tune the details - this is something that's really allowed us to stand out through creating different pockets of experiences in one place, whilst constantly considering how each year's events will work together.
You've also got your own production company, Pink Marmalade. How is that going?
We were really lucky in that Good Life had such a strong response that we started getting requests from other students and organisations to run private parties with a Good Life theme. Pink Marmalade organically grew out of the continued requests and opportunities we saw. Last year we ran between 15-17 events which included everything from rainforest to Wes Anderson-esque themes. It's allowed us to channel the creative production side of Good Life into something more bespoke for other people. We're now more frequently running events for people and brands outside of the student space, which has meant we've been able to introduce the whole ethos of the brand to new audiences.
We also recently launched the Pink Marmalade Gin so hopefully next year we'll be able to tie in the gin with some pop up bars at festivals and our own events - watch this space!
How has the Covid-19 situation affected you? What's your thoughts on what it means for the industry?
We've not been able to run any events. At the moment most have been postponed until next year so 2021 is going to be a busy year for us. Lockdown has, however, given us a generous lead time and plenty of time to reflect and plan, which has meant we've been able to fully prepare for what's next.
It's a really difficult time for the whole industry, from promoters to sound and lighting technicians, bar staff and security, everyone's been massively affected. It's important to try and stay positive but unfortunately it's difficult to know what to expect. It's having a much more severe impact on independent venues and staff so it's really important we continue to support them as much as possible.
Hopefully people will feel the need to make the most of every moment in 2021 and the events industry will bounce back.
In terms of FIXR's features, which have been most valuable to you?
We only recently moved onto the FIXR platform but have really enjoyed working with the FIXR team so far. The site's super easy to use. Plus, for our last event we utilised the online Rep Network which is something we'd only previously managed manually. Other features, such as group ticketing, have also meant we've been able to improve our existing offering and make it more efficient.
What's next for Good Life?
We'd really like to run something towards the end of the year if we can, even if it's smaller scale and more brand focused. Hopefully we'll be able to run the Christmas Good Life, which is normally a real highlight of the year and an opportunity for a proper reunion with all of the Good Life team.
On the back of lockdown, we're really hoping to run some events that will provide event goers with everything they've missed this year, particularly summer festivals. The irony is, our last two events before lockdown were focused on Dystopia and our next event was due to be Utopia-focused so we're really hoping to launch this when restrictions allow to give everyone an uplifting welcome back. We're also in talks over some other really exciting opportunities for next year and our UK tour is due to launch at the end January 2021 - stay tuned.
How can we stay in touch with Good Life and what you've got coming up next?

For all things Good Life, hit us up on our Facebook page or Instagram @goodlifeuk

For more info on Pink Marmalade, visit our website
Running an event? It's free to list an event with us and you can start selling tickets fast. Click here to find out more and create your event now
Here to help. Hit us up with your feedback at team@fixr.co or use the live chat on fixr.co to speak to our expert team.