How Using Reps Can Revolutionise Your Freshers Week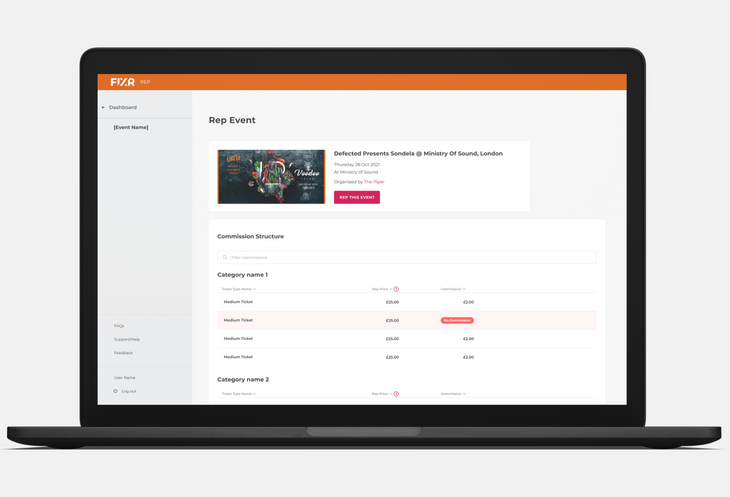 Just in time for Freshers Week 2022, the FIXR Rep Platform is back with a bang!
After a total redesign, there are more stats, individual and group performance insights and event discoverability than anything else on the market. With a slicker user experience, you get your own personalised dashboard giving you full control of your events and your earnings, whether you are an event organiser or a rep.
The FIXR Rep Platform makes it easy for reps to sell tickets to students, friends or followers at discounted prices - and earn money doing it. Event organisers benefit by reaching a bigger audience, building a following, and selling more tickets. It's a win, win for everyone. Check out the new features…
Even More Students To Reach
As an event organiser, you need to be able to do more than just hire reps and see how many tickets they have sold. The Rep Platform 2.0 dashboard is full of sales insights to help event organisers reach more reps and ticket buyers.
For Event Organisers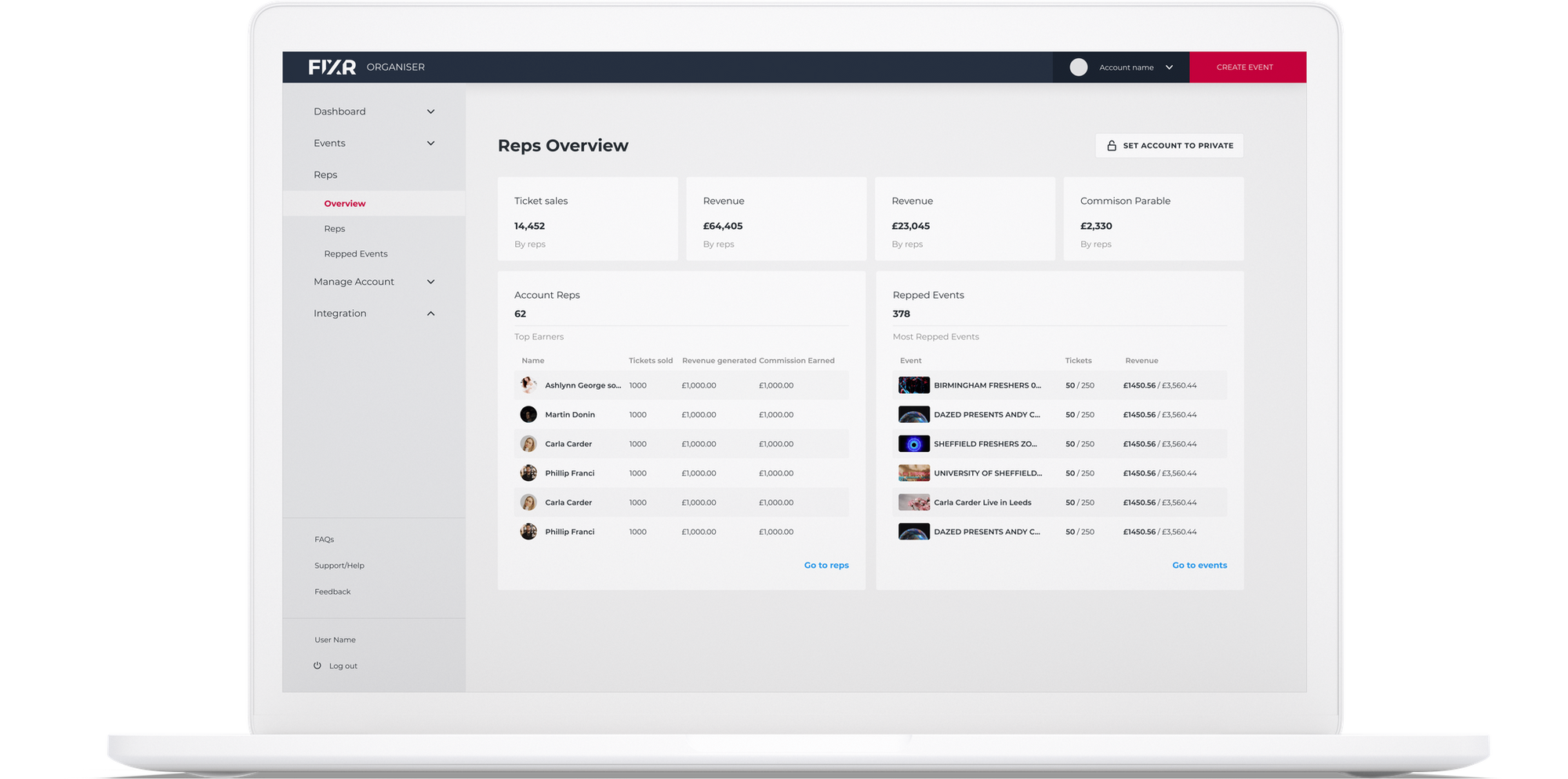 We asked the question "as an event organiser using a Rep Platform, I want to be able to..." and event organisers came back with more than 30 ideas. After turning this audience feedback into functionality, under 'Reps' in your FIXR organiser account, you can now see:
Total revenue generated by reps
Total commission earned by reps
Who is repping your events
How many tickets reps have sold for your events
Who the top earners are
Your most repped events
Top Tip: Make your account reppable to invite people to rep for your brand. Set it to private and only people you send the invite link to can sign up to rep your events. Set it to public and anyone can rep the event and your events will be listed on the reps' discovery tab. If you don't mind who reps your events and you want to reach a wider audience, make them public!
Even More Events To Discover
The new discovery feature makes it quicker and easier for you to find events to promote. See all the event organisers who are looking for reps and for which events are in one place. Search by location, event organiser or event or just scroll through until you find an event you want to rep.
For Reps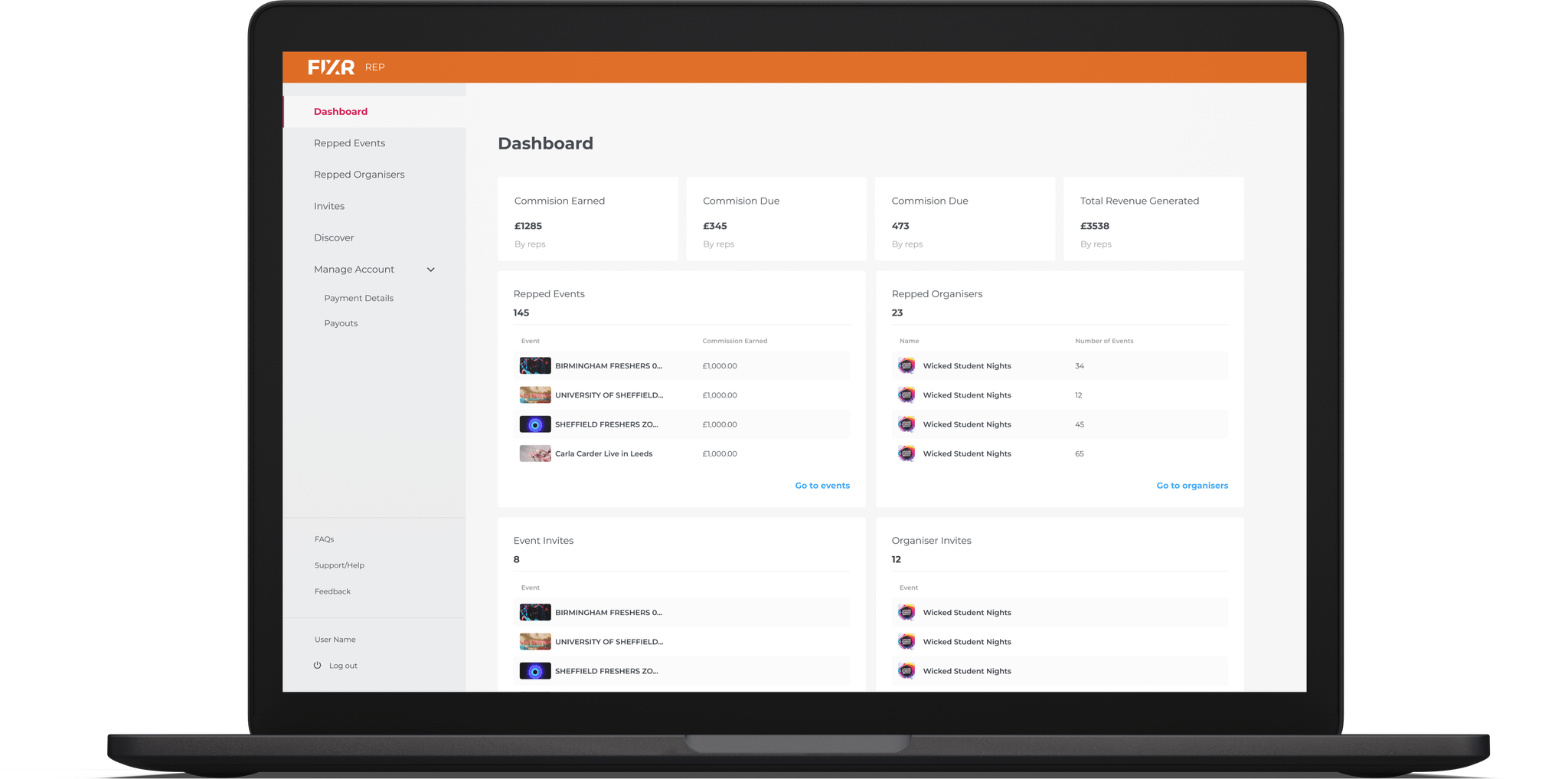 When asking "as a rep I want to be able to....", a common theme to come out of the conversations was needing to have key information at your fingertips like knowing how much money you have made from ticket sales and when you can expect to be paid out. As a rep on FIXR, you have a profile (visible only to you and the venues/event organisers you have chosen to rep for) and can see stats like:
Total commission earned
Total commission you are owed
Which events you are repping
Which event organisers and venues you are repping for
Pending invitations from event organisers
Other events you can rep for
Think Like A Business
There's nothing more satisfying than seeing your earnings increase when you hit refresh. Managing reps as an event organiser and managing yourself as a rep has never been more accessible.
For Event Organisers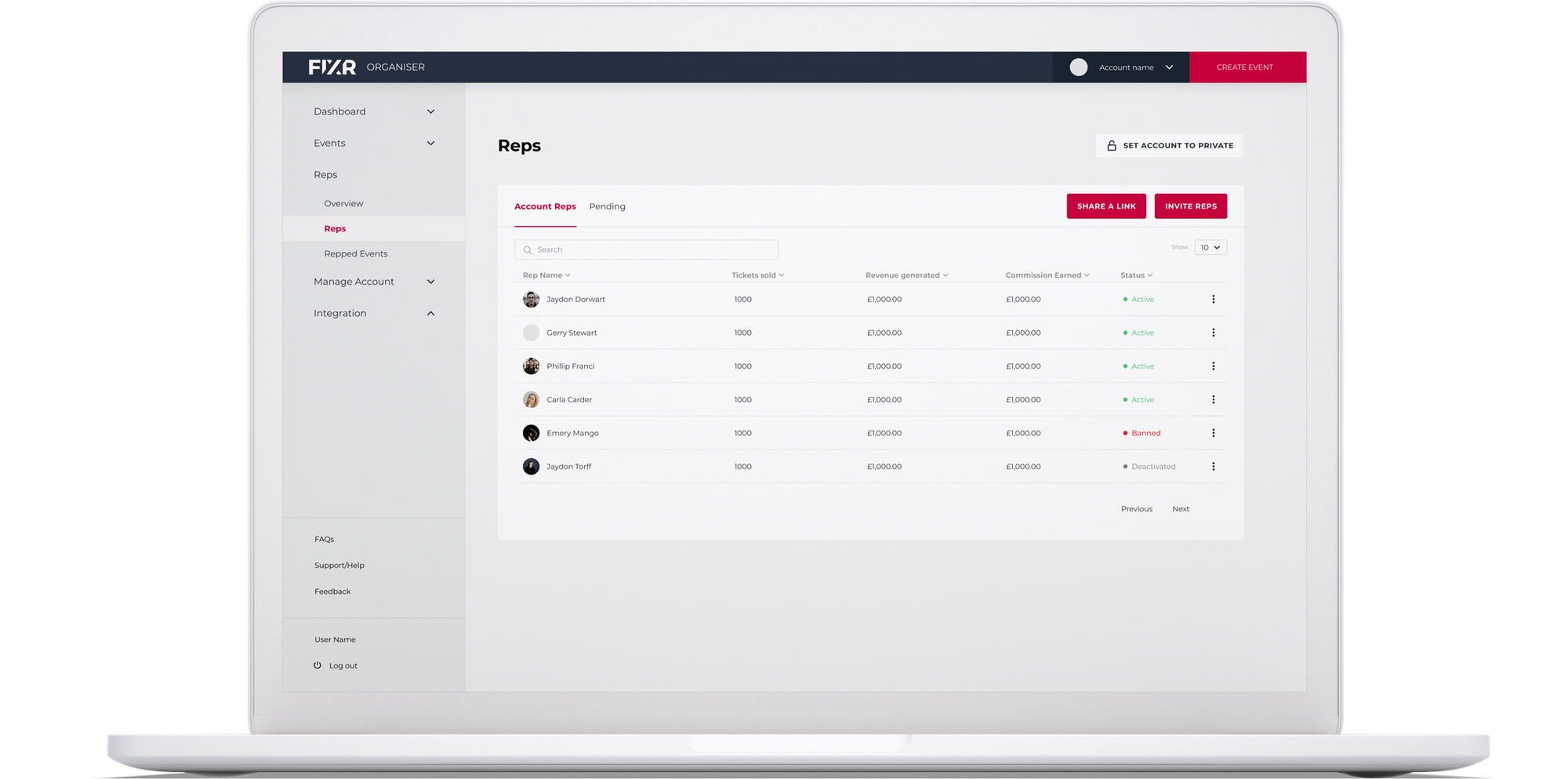 Be in the know about who your top earners are and how much revenue they are making for your business.
Save time by leaving the admin to us. No more manually paying out reps using spreadsheets and banking apps. When a rep clicks 'request payout', their commission is calculated and paid into their FIXR rep account.
Top Tip: Why not incentivise your top earners by inviting them to rep for your brand, so they can sell tickets to all your events and earn more commission!
Build Your Brand
Promote multiple events with one link! This game-changer makes it even easier for you to sell and people to buy tickets. The link updates when new reppable events are added, so add it to your link in bio and no need to update it.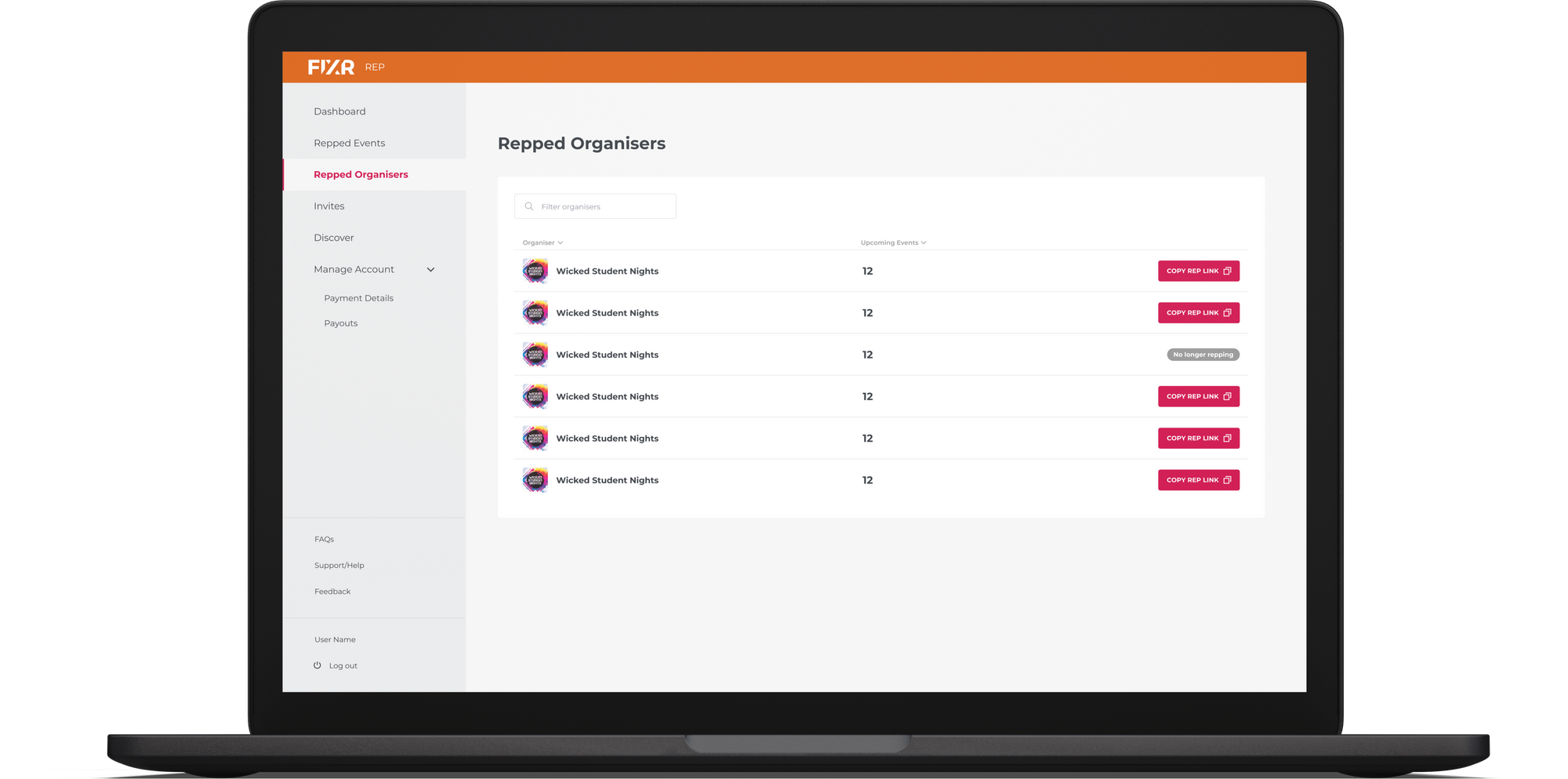 For Reps
As a rep, it's easier to stay motivated to sell tickets now you can see a list of every event organiser you rep for and how much commission you have earned from each. The new payout feature puts you in full control of your earnings. You can request a payout at any time (as long as you've sold some tickets!)

Top Tip: Remember when you hit request that payouts take 5-10 working days.
Organising and repping events has never looked better. What are you waiting for?