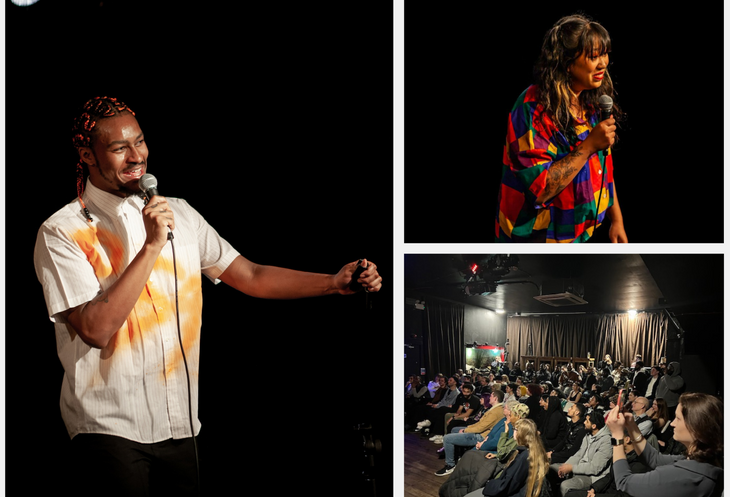 0596club is a comedy brand that runs comedy and open mic nights in London. We caught up with Johnny Campbell-Tavernier, founder of 0596club, about what it's like in the world of comedy events, who their events are for and more...
What inspired you to start 0596club?
Most comedy clubs in England are majority white audiences and acts or when it is black comedy acts, it would usually be an older crowd that would go to them. The idea of 0596club came from wanting to create a space for young ethnic minorities who want to get regular stage time and perform for like-minded people from different creative backgrounds.
Early on in my comedy career I felt I was really good at spotting talent. I knew instantly whether a comedian would be good or not, this helped me collate my line-ups.
I now created my own "gong show", a comedy show where the comedian has to last 5 minutes on stage without getting booed off, and then there will be a winner at the end. I've hosted two shows and all the finalists have been ethnic minorities which is beautiful to see and be a part of.
Who are your events for?
I would say my events are for people who enjoy making new friends, networking and overall enjoy having a great time. The audience is always very multicultural, that's not to say white acts don't shine at my shows, but it's good to see young ethnic minorities do their thing and I'm proud of that!
How did you get into stand-up comedy?
I was a bit of a class clown, I was voted class clown champion in my secondary school three years in a row! Unfortunately, there are no qualifications for that...I was always good at making witty jokes and comments, I wouldn't be rude for the sake of being rude I never found that humour to be funny. I understood there always needs to be some intelligence to the jokes you make in any scenario.

Fast forward to around 2019, I always wanted to play football but eventually, I realised that it would never happen, I gave it my best shot and that's all I could ask of myself. I began to go out more and socialise with different people and realised I actually make people laugh often without me trying just from my storytelling. Whilst I was at work I thought, why not give stand-up comedy a try? So I went to multiple open mic places to watch and eventually give it a try myself.

March 2020 was my first-ever gig, it was a competition vs 20 others comics and I won! The adrenaline from that was truly insane unfortunately, lockdown happened and I had to stop for about a year. When venues re-opened, my comedy career was off to a flyer! Definitely, the best decision I've made.
What do you think is the biggest opportunity, and the biggest challenge for comedy events in 2023?
The biggest opportunity for comedy events in 2023 is that the comedy industry is definitely becoming more popular these days. It would always be music events at the top of people to do lists when going out or going to the club but now I think people realise comedy can be just as fun. It's a great night out where you can drink and laugh with your friends, what's better than that?
Also, comedy is a great way to get into acting too or any sort of presenting roles if that's of any interest! There is a lot of opportunity to grow your online presence through TikTok or Instagram reels is huge.

The biggest challenge would probably be the dedication to the cause. You have to constantly promote your shows, message people and produce flyers and promo videos. If you're not established already, people aren't just going to come to your shows just from one or two Instagram posts or stories. There's a lot of hard work involved to get your shows off the ground, but if you are dedicated you can be successful!
Why did you choose FIXR as your ticketing partner?
I chose FIXR as my ticketing partner because when I had a chat with them I knew they were genuine people that wanted to help me grow my brand! When people believe in me and my brand it gives me a lot of motivation to work even harder! I also like how easy it is to navigate the app and check the stats of people who have bought tickets.
What is the best FIXR feature you use for your events and why?
The best feature is that you can see how many views your event has got and that you can see returning customers and new customers. You get all of the important stats to know how big of a buzz your events are.
How does FIXR compare to other events management tech you've used?
I feel FIXR is more organised, looks better aesthetically and you have a more personal relationship with the people that work for FIXR. They're only ever one message away if you need any help with anything which is great!
And finally...what does the future look like for 0596club?
The future for 0596club is looking really bright! I've managed to host, book acts and promote my comedy nights all on my own consistently for nearly 4 months now. There are two open mics a week, monthly pro shows, a gong show and my hour comedy special that's on the 23rd of February. I also have my own merch hoodies too and more are already in the works!

The future is to make 0596club a household name not just for the comedians but for the general public too!
Fancy a night full of laughter spent with like-minded people? Check out all of 0596club's events on FIXR now and grab yourselves some tickets!