Spotlight On: So La Flair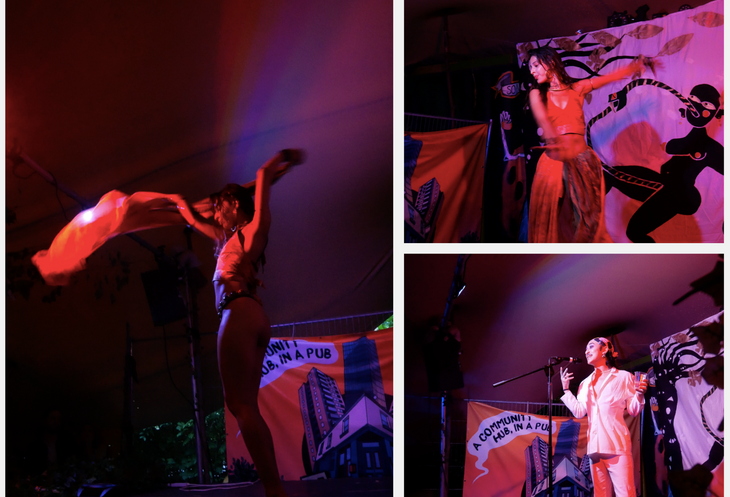 We caught up with Scarlett and Lucy from So La Flair, a performing arts company that wants to make a huge impact in the arts industry. So La Flair is on a mission to provide a space for young creatives in the arts world, whilst creating a more culturally diverse environment that anyone can be part of.
What inspired you to start So La Flair?
So La Flair started out as a desire to build something our own way. In all honesty, our drive was also fueled by our exasperation towards the UK arts industry.
Scarlett and I met at the University of Manchester, we both studied drama and graduated in 2020 in the midst of the global pandemic when all doors in the art world seemed to be closed. With fewer jobs and opportunities available than usual, no arts work on the horizon and a heck of a lot of debt - it is a really daunting time to be a young creative in the arts. People referred to us as' emerging creatives' yet it seemed there was nowhere for us to 'emerge' to.
We desperately wanted a space where we could keep creating, collaborating and developing our individual practices - a space where artists could come together and support each other through these bleak times. It occurred to us that this space was not going to open up to us unless we built it ourselves. We realised - why are we wasting our time knocking at the doors of institutions we already know are problematic, elitist and exclusionist?
This is an opportunity to practically realise the radical restructuring needed in the mainstream arts industry. Our aim is to progress towards equality and empowerment both on and off stage. We want to reimagine how a theatre company can work.
What is one thing you think the theatre/performing arts industry needs to change?
WOW - so many answers to choose from!
There needs to be a structural shift to encourage collaboration and culture. By this, I mean organising arts companies as production houses where we rotate creative roles/positions. We need to adopt a culture of supporting each other's careers instead of the patriarchal culture we have at the moment where unless you are rich or willing to sacrifice everything to win the title of 'genius' or 'star' - you won't be able to get your foot in the door of employment. It's every man for himself - literally, and that needs to change. Cultural changes such as flexible rehearsals around school runs, advance notice on scheduling/call times, maternity leave and free creches included in the workplace would make the arts more accessible. First and foremost we need to stop cutting funding for the arts in state schools or will be stuck with the privileged preaching to the converted!
What was the biggest challenge you faced starting your first event?
The biggest challenge we faced was not being sure of the numbers we would have at the event. After the pandemic, people are becoming more and more last minute with their attendance to events meaning it can be hard to monitor capacity and how this is going to affect your budget and profit. We had many people buy tickets on the door so we are trying to find ways to encourage ticket sales before the event.
How did you get into performing arts?
It's safe to say that it has always been in our blood. We both delved into different disciplines from acting, directing, choreography and production and that has made for a really strong team.
The arts industry has shifted so much since the pandemic and there is certain mutability and adaptability required at the moment. We love celebrating the interdisciplinary nature of art and we want to encourage it in the work we make and the artists within our collective. We are moving towards a really colourful and innovative industry and we feel so excited to be part of that tapestry in some way.
What does the future look like for So La Flair?
Covered in a lot of glitter, sparkles and hopefully one day, our very own So La Flair Office!
However, now after a packed summer program, we are having a real deep dive into the structure and values of our work, how and why we want to work and who we are making that work for. We are always buzzing with ideas but at the moment we are focusing on developing and fostering our collective of artists as well as developing a series of school workshops from our recent show 'How to Keep Up with the Kardashians'. We always have a cabaret in planning - our final 'Bad Bitch Cabaret' is on the 18th of November and it is going to be the hottest yet!
We want to keep fun, playfulness and community at the centre of what we do and we are keen to keep that a priority. The arts world is already so difficult to navigate, particularly in this current climate, and so keeping joy at the heart of So La Flair is an important factor in keeping the fire alive and the solar flare burning.
And finally...why did you choose FIXR as your ticketing platform?
We love how FIXR is about creating community through events and it is obvious that the people and the audience are at the centre of their work. On a logistical level, setting up events, tracking and monitoring sales couldn't be easier and the app, my god, has saved our lives on the night of the event!
---
Interested in heading to a fabulous performing arts show that you won't forget? So La Flair's next event is on soon! Make sure you grab tickets before they sell out.
Keep up to date with all things So La Flair! Follow their FIXR page to get notifications for their event announcements, and follow them on Instagram and Facebook to see what they get up to.