Spotlight On: Wonky Sheep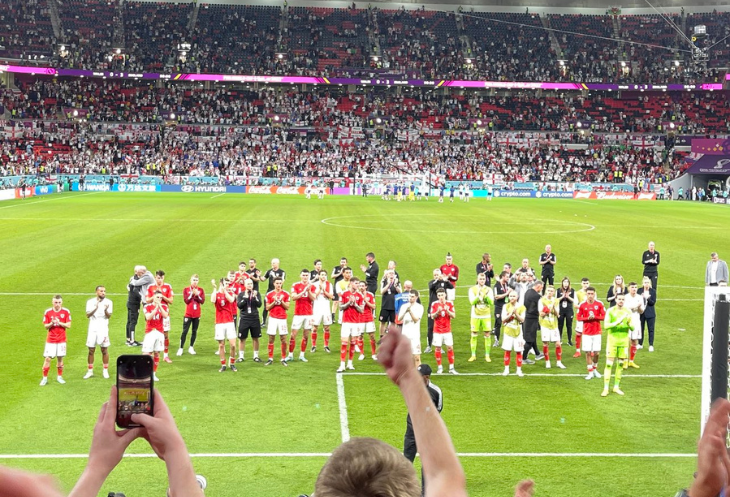 Fresh off the plane from Qatar after the 2022 World Cup, we spoke to Dave from Wonky Sheep, the official Wales football fan club. They organise events around the world, following the Welsh national football team games. Wonky Sheep also look after events and travel for supporters of the Northern Ireland and Scotland national football teams, Wales rugby and Glamorgan cricket fans.
How long have you been a football fan?
I've followed football most of my life. I went to my first game in 1988 and have continued to go ever since!
What inspired you to start Wonky Sheep?
When I was going on stag dos, at the time it was all about over-priced ready-made package holidays. I thought the trips could be done to the same standard, but at a lower cost. That's how Wonky Sheep started. It was also about being able to build your own trips, which wasn't really a thing at the time. It started as a hobby, but has evolved to cover sports as well as business travel and hotel accommodation.
Who are your events for?
Most of the trips we do are related to sports, so they are for sports fans who want to follow their team across the country and around the world! We look after Wales, Scotland and Northern Ireland football and next up is Wales Rugby.
How was your experience organising events in Qatar?
We run the official Wales fan travel (and do travel for other countries too) so this is part of what we do. Taking nearly 1,300 fans to Qatar was always going to be a challenge. Then you have to factor in a totally different culture and ways of working. When you're not used to everything happening last minute it takes some adjustment, but we made it and the fans enjoyed themselves.
Every trip has its challenges. Wherever you go and no matter how much you plan, something usually crops up that was unexpected and needs to be addressed. That's just part and parcel of travel planning. I think there's only been a handful of trips where it's gone completely smoothly from the planning stage to the trip!
What was your most memorable trip?
I think Euro 20216 in France was the most memorable because it was Wales' first major tournament in a long time and they reached the semi-final.
Why did you choose FIXR as your ticketing platform?
We hosted a couple of events in Qatar on non-matchdays. We're updating our website at the moment and needed a ticketing platform, so we went for FIXR. We're also looking to partner with more event organisers in the future so it felt like a good fit.
What's your favourite FIXR feature?
The FIXR Entry Manager App is really useful to keep track of sales. You can use the app to scan tickets upon entry, so you know who attended (and who didn't) and what capacity the venue is at.
Follow Wonky Sheep on FIXR to be the first to hear about their upcoming events.