Bournemouth 7s Festival Partners With FIXR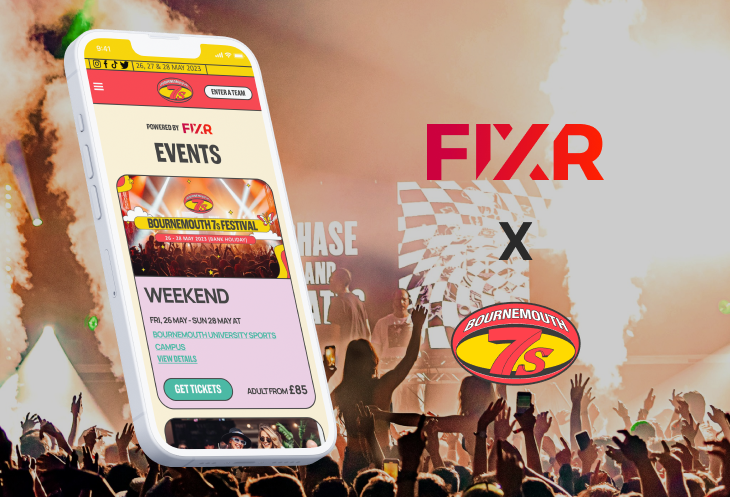 Bournemouth 7s, the world's largest sport and music festival, has chosen FIXR as its official ticketing partner for 2023.
A record on sale has already been reported after pre-sale and early bird tickets were released on FIXR last week, with thousands of tickets snapped up.
Since 2008, Bournemouth 7s has been throwing festivals for sports people and party lovers. It has grown to attract tens of thousands of people to the south coast each year. Curated and delivered by a team based in Bournemouth, the festival was started by Dodge & Fleur Woodall.
30,000 people will descend on the Bournemouth University Sports Campus this May to see over 100 artists, DJs and live acts across 12 festival arenas.
400 teams will take part in seven sports: rugby, netball, hockey, dodgeball, fitness games, basketball and cheerleading.
Paul Ashurst, Managing Director of Bournemouth 7s said: "We're thrilled to be working with the FIXR team. What stood out from the offset was their collaborative attitude and dedication to supporting clients. After a successful onboarding period, it's great to be working with a ticketing partner, who not only supports our team but challenges us with their thinking. The technology has been a natural fit for what we need to manage the festival and we're certainly feeling confident that we are set up for another sell-out event this year."
Edmund Glover, CEO of FIXR, added: "We're incredibly excited to be working with Bournemouth 7s, the world's biggest sports and music festival. Dodge and his team have created an army of fans with their innovative and influential festival which continues to evolve and break new ground. The Bournemouth 7s team are leaders in their industry, with a clear and compelling vision: we are thrilled that FIXR is partnering with them this year."
He continued: "FIXR's technology is a perfect match for large, sophisticated events with complex requirements and for clients who need actionable event data and insights to supercharge their event marketing and ticket sales".
Tickets to the three-day festival are on sale now.
Find out about how to use FIXR's event management and ticketing technology to successfully promote your events and sell tickets.