How to use FIXR for Your Student Events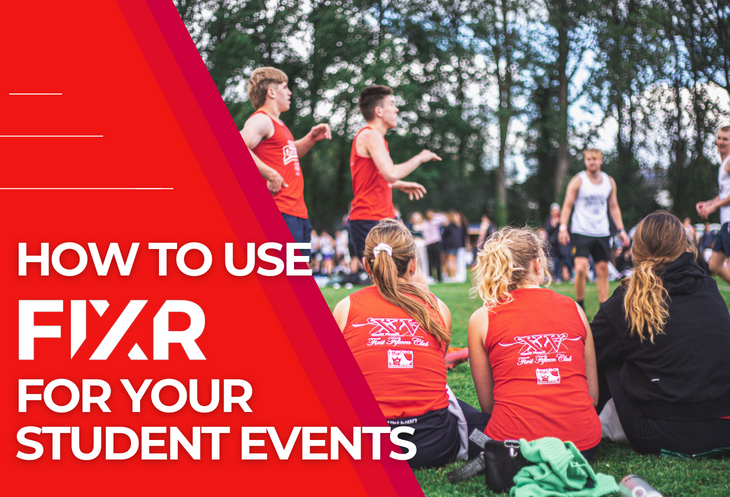 It's incredibly easy to list events and sell tickets on FIXR, making your events discoverable through our platform and gaining access to a whole host of audience insights on your organiser dashboard.
But beyond simply putting events live on the platform, there's a handful of practical, easy steps you can take to really maximise their success, tapping into the range of features and functionalities that FIXR offers to improve the experience for fans and organisers alike.
Here are some tips to help you get the most out of your FIXR account and take your events to the next level!
---
Use the FIXR Rep Platform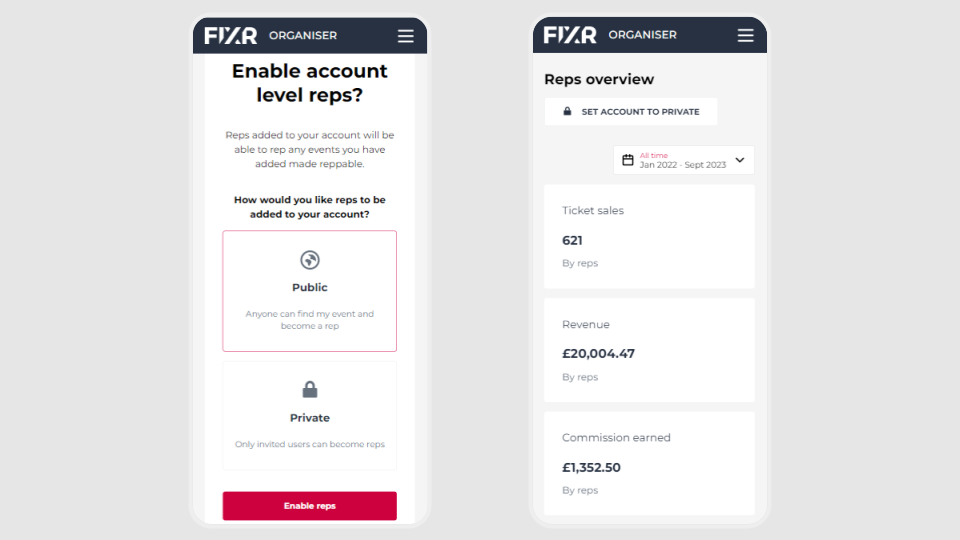 The FIXR Rep Platform makes it easy for reps to sell tickets to students, friends or followers at discounted prices - and earn money doing it. Event organisers benefit by reaching a bigger audience, building a following, and selling more tickets. It's a win-win for everyone.
You'll get your own personalised dashboard giving you full control of your events and your earnings. On the dashboard you can see:
Total revenue generated and commission earned by reps
Who is repping your events and who the top earners are
How many tickets reps have sold for your events
Your most repped events
Even better, FIXR will take care of the admin. When a rep clicks 'request payout', their commission is calculated and paid automatically into their FIXR rep account.
Optimise your Organiser page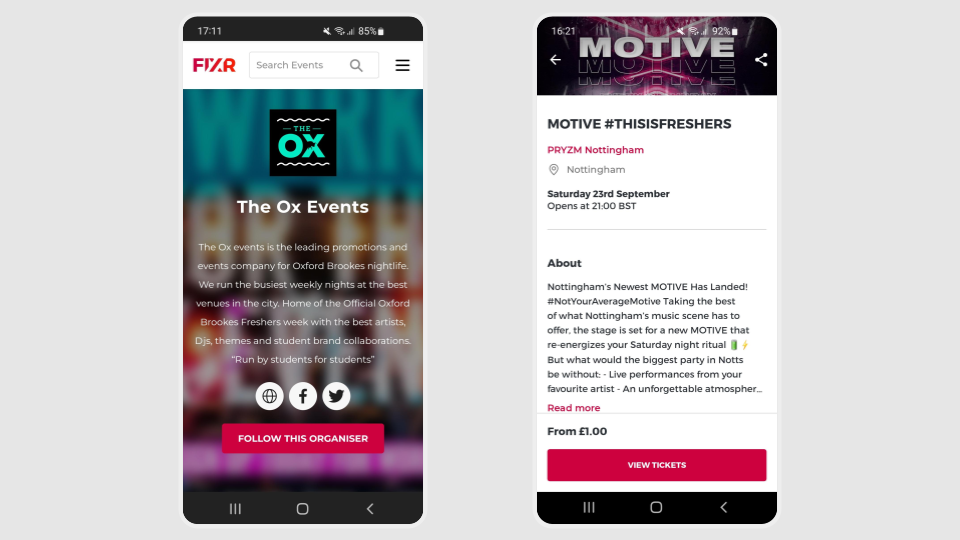 Making sure your FIXR Organiser and Venue pages are complete and up-to-date is a quick and easy way to improve the experience of your fans. This includes:
Description
Who are you? Where are you? What do you do? Who are your events aimed at? What makes them special?
It doesn't have to be super long; but clear, concise copy that captures who you are while providing key information can be invaluable. It can also help massively with SEO and help prospective ticket buyers find your events more easily.
The same applies to your event descriptions - think about the sort of things people might be searching for, and the information that could be decisive in them buying a ticket!
Logos and Artwork
You shouldn't judge a book by its cover, but let's be honest we all know how important first impressions are. Don't neglect the details when it comes to how you present your events, and your brand, to ticket buyers.
Make sure you are using up-to-date, high-quality logos and artwork on both your Organiser and Event pages to demonstrate that your events are equally high quality!
Social and Website Links
Add links to your official social media channels. Not only does this give fans a way to reach you or find out more about events, it also builds trust in your brand.
URL
You can change the URL for your organiser page so that it includes your brand name rather than an automatically generated string of numbers - i.e. fixr.co/organiser/name as opposed to fixr.co/organiser/13563.
Not only does this improve the overall look and feel of the page for prospective ticket buyers, it also improves SEO and means it will be more likely to appear in search results.
Encourage fans to follow you on FIXR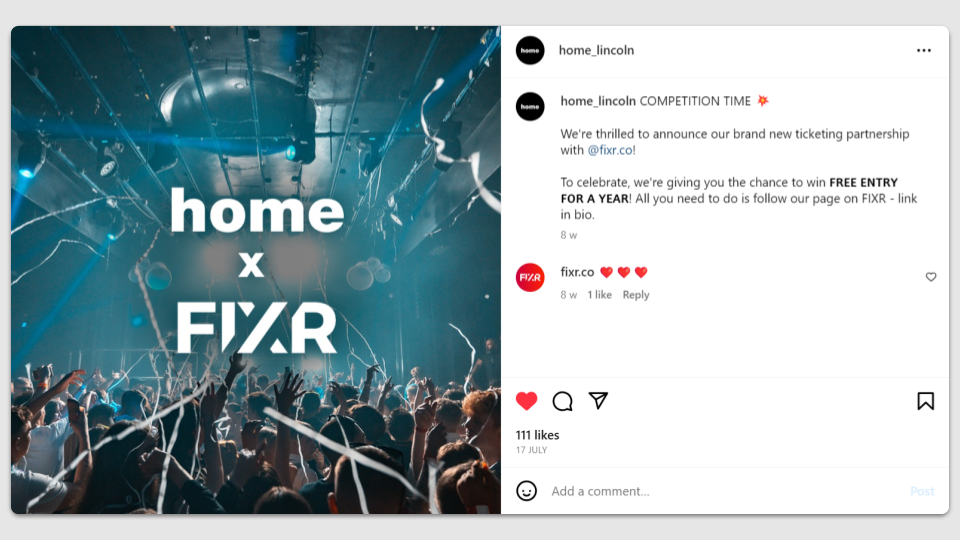 Reach a wider audience by encouraging people to use the 'Follow This Organiser' feature. You can notify followers when you release tickets for your next event, with emails and push notifications sent automatically, in real-time. All you have to do is confirm that you want them to be sent when you make your event live.
By building a following of interested ticket buyers and keeping them engaged with each live event announcement, you can increase your event page traffic from email and push notification click throughs and sell more ticket as you tell the people most likely to buy tickets first: your followers.
We've recently made some changes to the followers feature, meaning anyone who buys a ticket for your event, if subscribed to receive communications, will automatically become a follower. You can also now chart this growth from your main FIXR dashboard!
Add a FIXR Ticket Shop to your website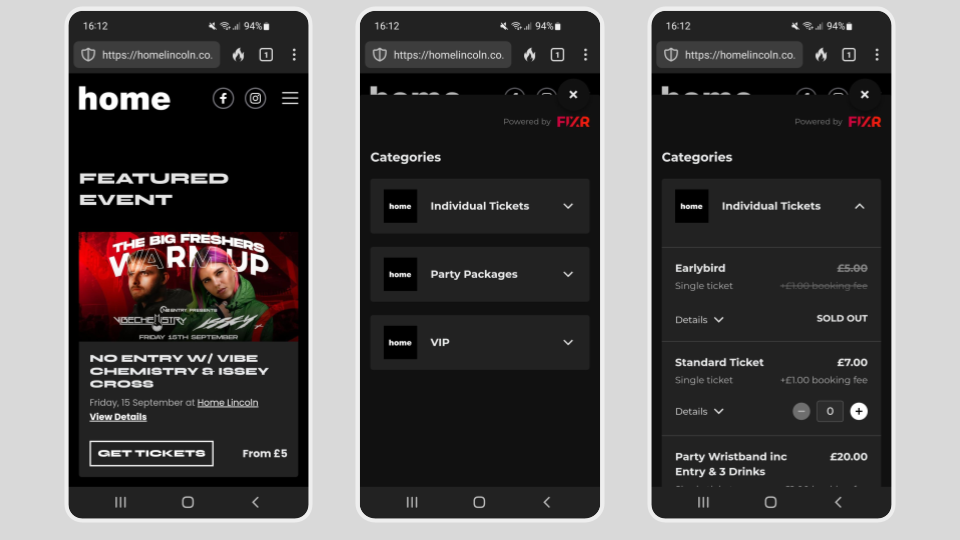 If you have your own website, you can use FIXR to sell tickets directly from your site without your fans ever having to leave!
Integrating the ticket shop is a simple process which means any new events you create on FIXR will appear automatically on your website with the relevant name, information and artwork. It's also customisable so that it fits in with the look and feel of your website and branding.
What's more, unlike with other ticketing providers the entire ticket-buying experience for your fans will take place on your website without them being redirected to another, separate webpage to complete the purchase - keeping your fans where you want them, and where they know the tickets are 100% legit.
---
If you have any more questions about getting the most out of your FIXR account, don't hesitate to get in touch - we're happy to help!