Mainstage Moments: Ali from Re:cord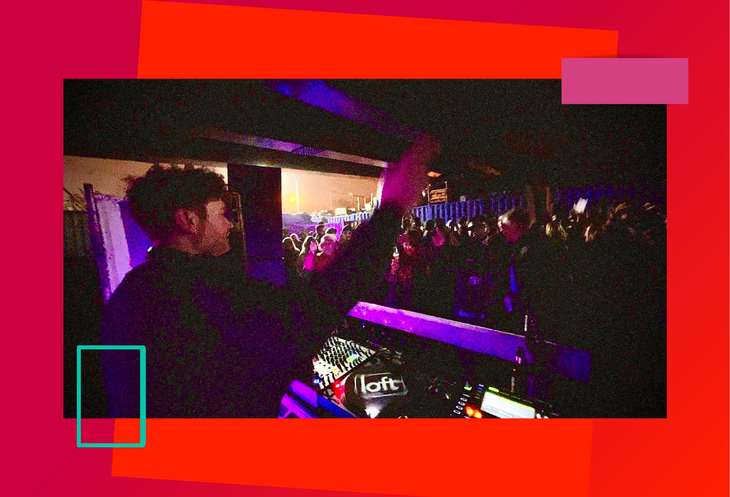 We caught up with Ali from Re:cord, a Birmingham based events company, for a quick chat about what it's like planning events in the music scene, his inspirations and what he thinks about the future of events in Birmingham.
What made you decide to work in the events industry?
I think ever since going to first live gig, I was 9 years old when my parents took me, I was always very intrigued by the idea of massive groups of people coming together to collectively listen to the same song and be moved by the same sounds. I think that probably sparked a lifelong passion for events and music.
I never thought that I would be working within the events industry until the age of like 23 24. Not because I wasn't interested in it but because it was never presented to me as something that was achievable. You go through school and you're not told that this is a life path that you could follow. When I realized that it was, I kind of grabbed it while I had the opportunity and I've tried to make the most of being able to convert my my day-to-day passion, into my bread and butter and it's exciting! It's something that a lot of people are not able to do.
Who is your biggest inspiration & why?
There's so many people along my career, my journey that have influenced me. At start of kind of going out, when I was like 17/18, I remember a moment where I was at an after-party in Birmingham called Rooftop, which started at 6:00 in the morning and went on till 12:00 every Sunday. I can remember rolling up
there and there was a DJ playing and he had similar hair to myself, a geezer called Marc Spence . The tunes that he was playing were completely out of this world, they blew my mind. I just went and spoke to him and he gave me a CD which I absolutely rinsed to death until it fell apart and it kind of made me think, you know, this guy's so down-to-earth and approachable that, maybe I could be on the other side of the DJ booth. So he kind of inspired me to make that move and get my first set of decks.
Today, my inspiration would be Josh baker, who runs Animal Crossing and Hide and Seek in Manchester. He's also a DJ and producer. He's at the level that I want to be with my events and with my music. He's also on Instagram, not like an influencer, but he's often answering questions for up-and-comers about the behind the scenes stuff with the events industry, and how to kind of make it as a DJ and producer. I think that kind of giving back is something to look up to and be inspired by, so Spence and Baker at two different sides of the scale.
What's your vision for the future of events in Birmingham?
So, my vision is pretty huge. There's so much going on at the moment with event organisers and venues, behind the scenes stuff that hasn't been released yet, spaces that haven't been revealed and it's super exciting! I think there's a lot going on, that could really stir up the scene in Birmingham. Prior to lockdown, things are going a little bit stale and I think, you know, we all had a couple of rough years. It's nice to finally see that, you know, promoters, event organisers and venues starting to work together a little bit more, asking when's your next event so that we don't clash because we're a similar party. It's good to see some of the old guys working together finally because we've got city that we really do need to be proud of, it's got so much potential.
There's some really cool student events like, Genesis, Transport that are booking some really forward-thinking artists. There's some, older, cooler parties like my own event, Re:cord, Penda, Social, Format, you know all kind of really pushing for the same thing at the moment.

It's just exciting to be part of and obviously, if you want to be part of it too, then head on to FIXR and buy your tickets for my party on the 21st of May. We've got Dr. Banana, and Alec Falconer on the roof terrace of The Mill, which used to be the rainbow, an iconic venue. Be there or be super square!
Make sure you follow Re:cord on FIXR to get notifications on when their next events!