Product Update: Introducing the all new FIXR Organiser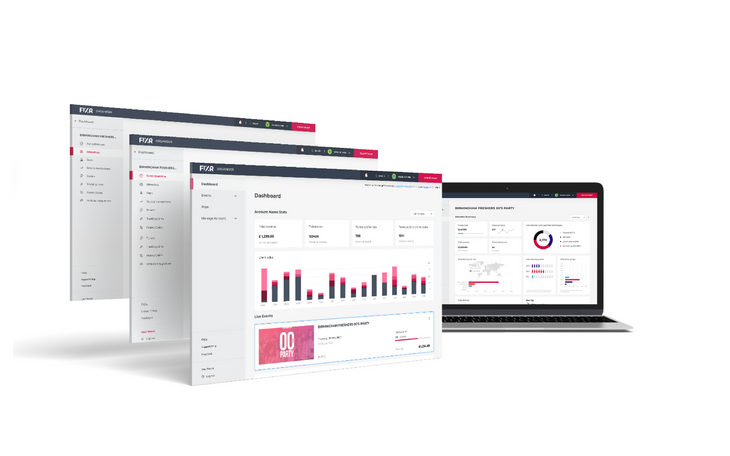 You spoke, we listened
During the pandemic our teams have been working hard handling large amounts of customer queries, refunds and event re-scheduling's whilst supporting our clients through, what have been, very tough times for the industry. However, during these months our engineering teams have kept busy, looking ahead and improving our platform so our event creators have the best solution possible when we return to normality.
We have listened to all your feedback and are now beginning to roll out lots of exciting new features, services and a new brand image over the coming months.
Product update: New events management experience
We understand that as event organisers you need to be able to analyse event performance 24/7 to be able to make informed event decisions. With this in mind, we're happy to announce the release of an all-new event management experience. It will help you gain access to valuable insights and data, as well as instant access to our Ticketshop integrations and your account information. With more flexibility and ease of use, you can spend less time working on your event ticketing and more time creating meaningful experiences.

Upon logging into your FIXR Event Organiser, you will have the option to access the new Organiser dashboard through the 'on-off' switch at the top of the page. This will allow you to switch between the new and existing Organiser dashboards so you can get a feel for all the new features and improved functionality, without having to commit to a whole new platform.
Through the new hub you will be able to access new dashboard features which include, updated tools to help you better understand ticket and event performance. Browse performance across all on sale events, easily track ticket sales, revenue and remaining allocations. Select specific past events to analyse further and draft events to edit, manage and push live.
Within the main Dashboard, you can now easily access the following:
Event performance panels – Easily check sales numbers, sales by event reps, revenue and page views.
Sales breakdown graph – Identify ticket sales, revenue and conversion rate peaks and troughs, configurable through hourly, daily, weekly and monthly graphs.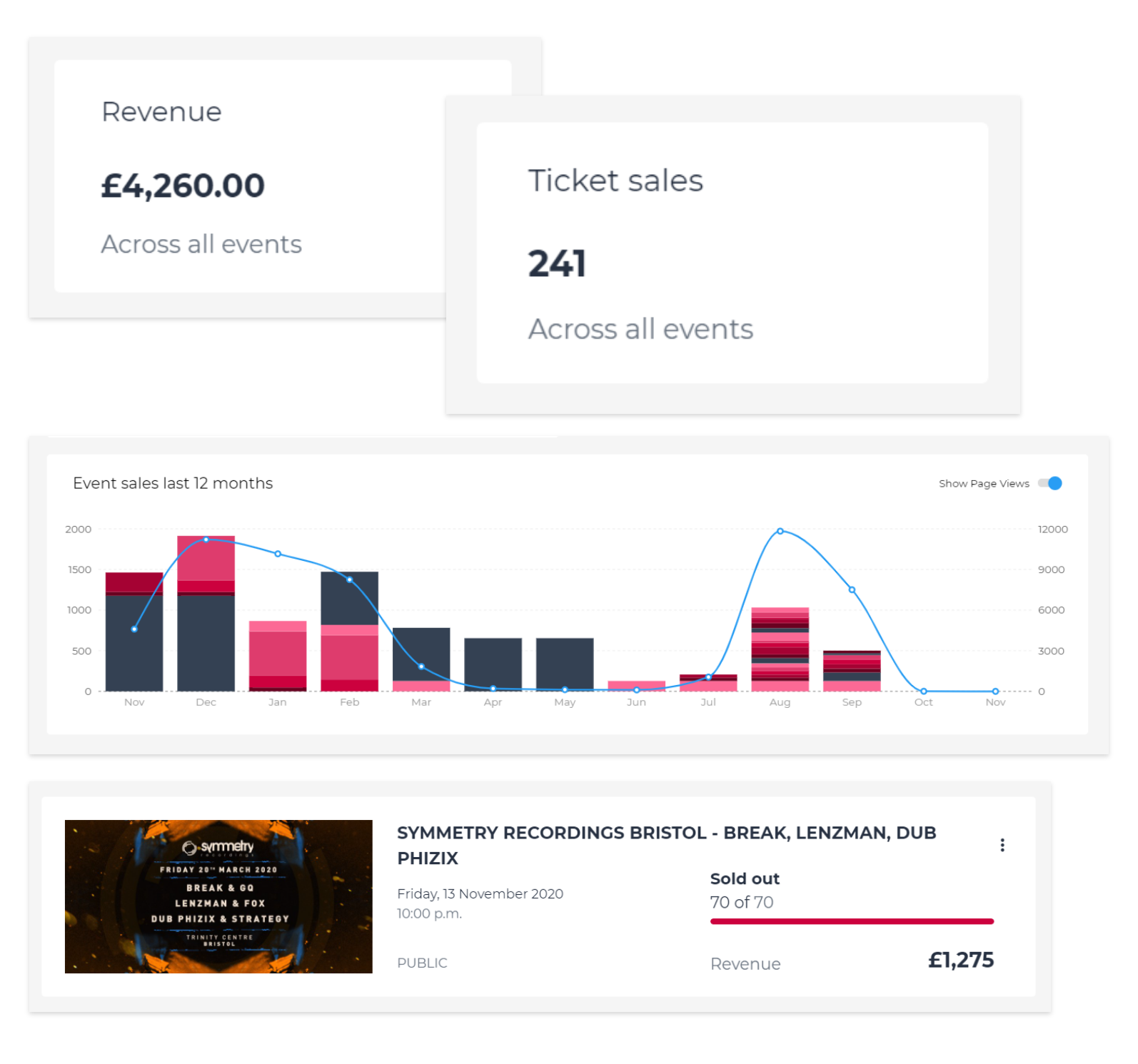 Account & event search - If you are an event organiser who manages multiple events and brands, or a large-scale organisation that holds multiple accounts, you can now directly search for your Accounts and Events.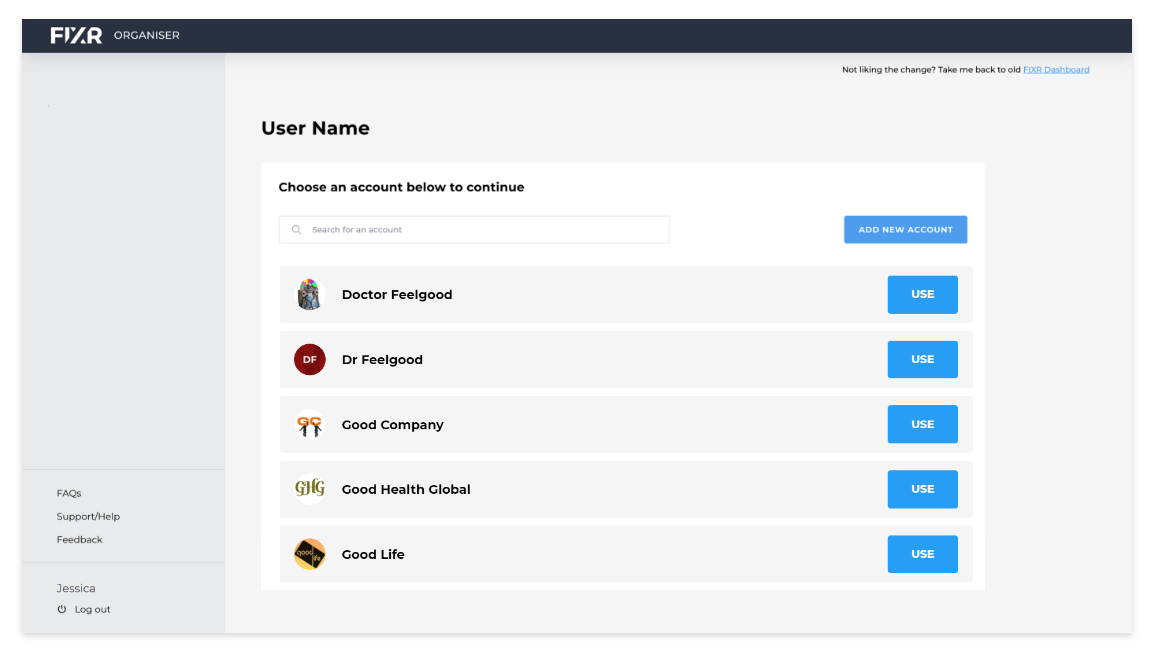 Reps - Invite reps to promote your event using FIXR's Rep Network and track how many tickets your reps are selling.
Account settings - Easily update your account information and edit your branding.
Payments - Manage and add multiple payment methods to your account.
Integrations - Our widgets are critical features for a lot of our event organisers who sell tickets via their own websites or social pages. Easily access our Ticketshop widgets directly from your new Organiser interface.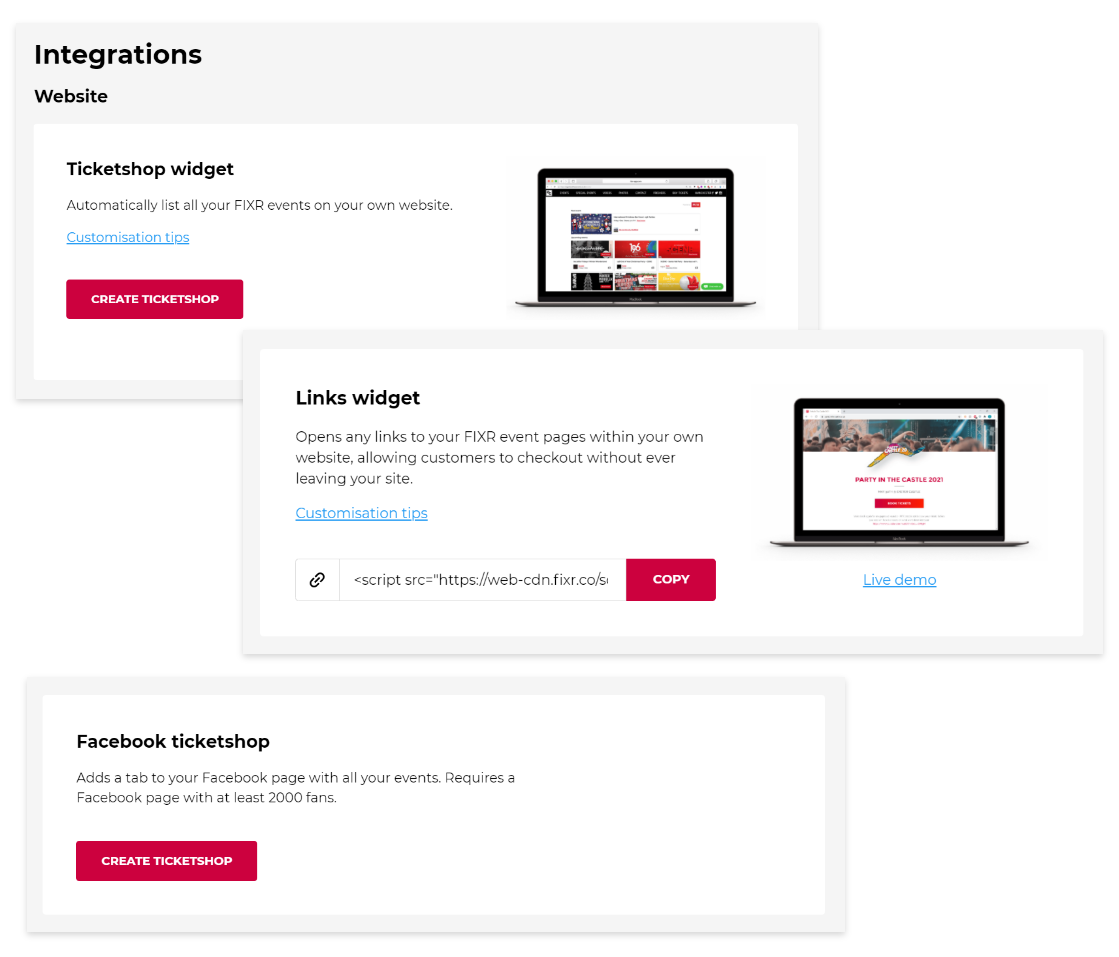 After selecting an event, you will be able to access the following dashboards, which are currently hosted on the existing FIXR Organiser:
Attendees - Know exactly who is attending your event so you can effectively manage ingress and monitor capacity.
Entry Manager app - Add access tokens to your account to enable door managers to admit guests through the FIXR Entry Manager app. Download the app directly through your FIXR Organiser.
Reps - Manage your Rep Network's commission structure and identify which tickets you want your reps to sell.
Sales and transactions - View every transaction associated with your event. Want to communicate with your attendees directly? You can access a downloadable CSV of all transactions and ticket buyers' registration information straight from your account.
Promo codes and tracking links - Add tracking links to give to your promoters or advertising streams and monitor their performance. Entice ticket buyers with top promo offers and bespoke discounts, all easily added directly in your event's dashboard.
Website integrations - Sell tickets directly on your website through our Ticketshop integrations.
Share & promote - Access your shareable event link and get spreading the word across all of your favourite social platforms.
Coming soon…
These updates are just the first step in a wider project we are undertaking to make our platform more intuitive and user friendly. Stay tuned as we'll be bringing you more levels of functionality across the site to help you effectively power your events.
Alongside this ongoing project, our teams are also working hard on a number of improvements right across the full suite of our offering. Take a look below for a sneak preview of some of the exciting features coming next.
A fresh new image – Unifying our product offering is key to offering a clear and concise service. We have worked on a fresh new user interface for all our tools and admin dashboards which is being rolled out gradually. Our homepage is also having a complete makeover to help our event organisers access useful resources and manage their events, faster. It will also be easier for customers to browse and discover events as well as buy tickets.
Scalability – Big stability improvements that will see faster ticket sale rates during high-demand on sales.
COVID-19 ready – We have been working on a number of solutions to help kick start the safe return of events, both internally and with partners. If you are interested in finding out more about these developments and how we can help your events, please get in touch.
---
Log in to your account now to explore all of our Organiser updates
If you'd like to discuss ticketing solutions for your upcoming events, please reach out to your account manager, email our friendly sales team at team@fixr.co or simply use the live chat on our website
Guidance surrounding COVID-19 is changing regularly, and as we continue to develop our products and services we will be releasing a series of newsletter updates to keep our clients and partners up to date. Update your Preferences in Settings to ensure you're on our mailing list