Spotlight On: The Brunch Club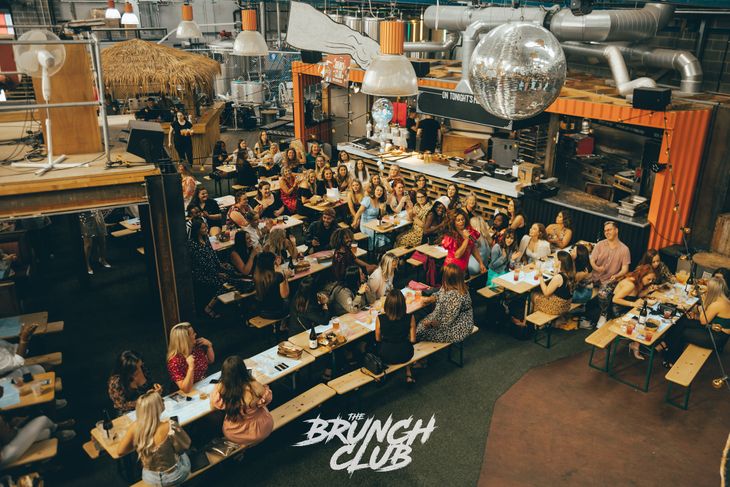 We spoke to The Brunch Club about starting a business during Covid, selling out 15 brunch events and their plans for Oktoberfest, using FIXR and Europe.
Tell us about The Brunch Club brand and how it got started?
The Brunch Club was formed by myself (Zack), Elle and Peter. We all have our own projects. My main business is running events in Ayia Napa and Zante, but because of Covid I had to adapt. I contacted Peter and Ellie and we built The Brunch Club.
We did three events in Brighton, London and Sheffield and they sold out, so we did two more in each city and they sold out as well! Obviously no one knew how long Covid would last so we spent the last lockdown planning a UK tour. We put on 10 events as part of that tour when sit down events were allowed again, and they went really well.
The Brunch Club is now in 30 cities, with a team of six and an office in Vauxhall.
What was the biggest challenge and the biggest opportunity to come from Covid?
The biggest challenge was that we were doing seated brunch events which was new to us, we were used to running student club nights. It was a new type of event, a different audience and we had to learn about the seasonality of brunch events and what themes work well.
The best thing to happen was that we got together, formed this company and were able to try something completely different which we otherwise would never have done.
What's the most memorable event you've put on?
They're all pretty wild! Portsmouth is our biggest venue. We seat 200 customers in one sitting. The first Saturday back in Portsmouth where everyone could stand up (after the rule change from seated-only events), the dance floor was crazy. It was so good to see after so long and the video footage from the event is amazing.
What does the events calendar look like for the rest of 2021?
Oktoberfest is coming up. We've got events in Liverpool, Birmingham and Manchester Bierkellers this October and tickets are already selling fast.
We're also running a series of different UK-wide tours: Disney, 80's disco, ABBA, Spice Girls, Grease, 90's Beyonce Drag, Naughty Santas and Frozen.
What can we expect from The Brunch Club in 2022?
This Christmas we're planning 80's and 90's Christmas disco events. Next summer, we're looking at pop-up events and there's talk of expanding into Europe. It's going to be an exciting year!
Why FIXR?
We've used other platforms in the past and we built our own through Shopify, but with what we needed, FIXR works a lot better than the platform we created. It was a no brainer really.
FIXR took the time to understand our challenges and provided a bespoke solution for us, removing significant admin work for our team.
Do you have a favourite feature?
The additional questions feature. The fact that our ticket buyers can give their food orders in advance, is huge for us. Our previous system didn't allow for that.