How To Build Hype With A Waitlist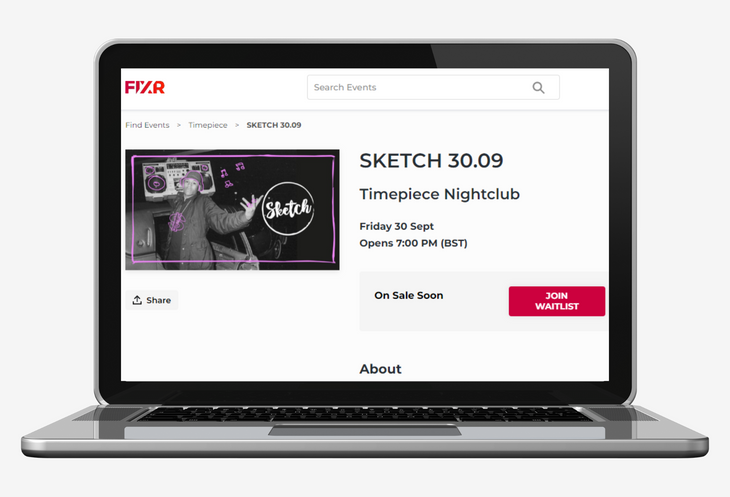 Ever missed out on tickets to an event because they were sold out? We've all been there. It's great that an event is popular, but it's not a great experience for frustrated fans who don't get tickets.

There is something you can do as an event organiser to improve situations like this and it benefits both you as the event organiser and the ticket buyer.

Whether your event sells out minutes after tickets go live or you sell more tickets on the day, with a waitlist, you can sell tickets faster and ensure your event is at capacity. Fans who join waitlists to stay in the know, can be first in line for ticket releases and avoid missing out.

The new and improved waitlist feature on FIXR is now live! Here's how it works.
The benefits of using a waitlist for events
Build hype
The waitlist feature is a great tool to use to generate hype whilst bringing exclusivity around your unreleased events. Encourage your audience to 'Join the waitlist' by creating a teaser campaign on social media. Get people to talk about your event and share the link with their friends via WhatsApp or their Instagram stories where you can get in front of new audiences.

Top Tip: Use social media tools like the Instagram reminder notifications on posts, countdown stickers on your story and pinned posts so it's the first thing people see when
Reach your target audience
Don't just rely on organic social reach which can be small or paid social which can be expensive. When you utilise a feature like waitlist for events, you're reaching engaged people in your target audience who are asking to hear when tickets become available for your event.
Save time
You don't have to spend too much time re-marketing your events after you announce the initial ticket drop. When potential ticket buyers join the waitlist, they will receive an email and in-app push notification (if they have the FIXR app) when more tickets go on sale. This keeps them informed as requested and makes it easy for them to buy tickets. You don't need to build audience lists or create marketing emails, as everything is automated by FIXR.
Top Tip: Spend time and effort engaging with your audience and showing your brand's authenticity. Your audience is more likely to buy tickets if they buy into the people behind the event brand.
Sell tickets faster
You're building a list of people interested in buying tickets to your event, when you release tickets, in one go or in staggered releases, you can reach this hot audience in their emails and sell tickets earlier and faster.
Top Tip: Be discoverable on FIXR and increase your own event discovery. Share your event link in all your promotion and if you've already sold tickets (from a waitlist), your event looks popular. This also creates hype. When someone sees early bird and first release tickets are already sold out, it can prompt them to buy a second release ticket sooner to avoid FOMO.
Avoid refunds
If any tickets are refunded, ticket buyers who missed out on your first release and have joined the waitlist since, are sent an email and in-app push notification to tell them additional tickets are on sale. This way, you don't have to deal with refund requests yourself and you can ensure your event sells out and is at max capacity!
Top Tip: Advertise the waitlist feature. If your event is sold out, you can still market it and build up an audience by suggesting people join your waitlist in the event of refunds or increased venue capacity.
Turn ticket buyers into super fans
One thing that entices people to buy into a brand is the exclusivity of products. You want your audience to feel like your brand is a big deal in your part of the world or even further afield. Use waitlists to turn one-time ticket buyers into returning customers and turn regular event attendees into fans!
How it works
There are multiple ways you could use the waitlist to boost your ticket sales and make sure your events are at max capacity more often:
First release hype:
Step 1: Create an event and set an event date.
Step 2: Schedule your tickets to go on sale at a later date than your event date.
Step 3: A join waitlist button will display on your event page.
Step 4: Announce your event! Build hype in your event marketing.
Step 5: Let your waitlist do it's thing and grow!
Step 6: Emails and in-app push notifications are sent to people on the waitlist on the ticket release date you have set and you start selling tickets.
Swiftly replacing refunds:
Step 1: Create an event.
Step 2: Tick the box to say you allow refunds for your event.
Step 3: A join waitlist button will display on your event page when your event sells out.
Step 4: People who missed out on tickets the first time, will join the waitlist.
Step 5: Someone requests to refund their ticket(s).
Step 6: An email and in-app push notification is sent to the people on the waitlist telling them that tickets are back on sale. It's first come, first served and the ticket(s) is sold.