Safe Events: Bringing Socially Distanced Events to Nottingham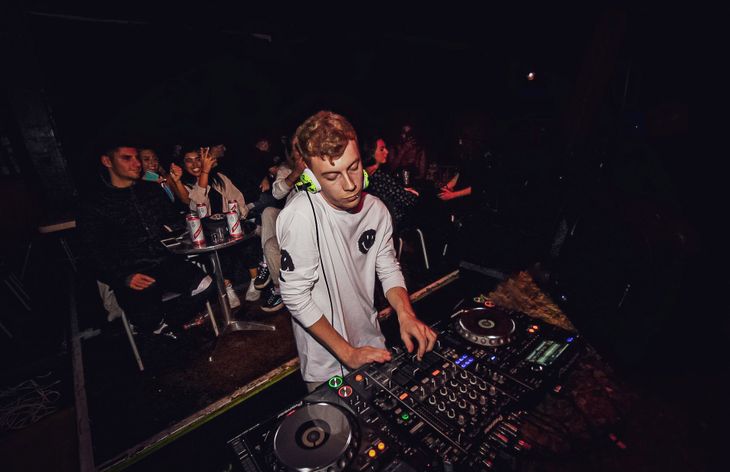 Rishi Bagdai doesn't think small. Originally running his first event during his Freshers' year in 2018, he now runs multiple brands across the student nightlife and events scene in the UK. After doing some major planning and securing top venues in Nottingham, Bristol, Leeds and Manchester for 2020, he was gutted to have to put everything on pause when COVID-19 struck the nation.

As someone who's always on the ball, Bagdai had a feeling the pandemic wouldn't be over quickly. Initially, he used lockdown to reflect and understand what form future events were going to take. Then he began to strategise how socially distanced events could work for his brand. After working closely with I Club in Nottingham, SOC DIS events (a play on Socially Distanced events) was born and the team hasn't looked back.

In this blog we talk to Bagdai to find out more about SOC DIS and how he's adapted to make socially distanced events work for his brand. Plus, he gives us his top tips for managing COVID-safe events and highlights the importance of continuing to drive support for the industry at such a challenging time.

Keeping things safe and staying on brand
As a venue that Bagdai normally works closely with, he was aware that I Club in Nottingham had been running some top socially distanced events during the summer. "Together we saw that there was a real opportunity to collaborate on events as they moved inside for the winter" he explains.
"Initially I was hesitant to start running socially distanced events as I wasn't sure if the general set-up would work for any of my brands" he explains. "We tested launching a range of nights across various genres, including disco, 00's classics, DnB, garage and jungle to see what there was appetite for". "We quickly saw an uplift in ticket sales for particular genres, so learnt to be as reactive as possible and focus our efforts on those events" says Bagdai.
Logistics were next on the agenda. "Luckily, I Club have a clear health and safety strategy in place". "We also continue to work with staff and Nottingham City Council to ensure everything is run in line with government legislation, and staff and attendee safety is prioritised". "Plus, we've got a really detailed process of how we're getting people in and out," he explains. "It's pre-bookings only", "and in light of recent changes to government guidance, we've been using FIXR's group ticket functionality to manage table bookings". Bagdai adds, "Event goers arrive and are scanned with FIXR's contactless QR code scanner on the Entry Manager app, so we're easily able to track numbers and any no-shows." Find out more about the FIXR Entry Manager app here
Transparency is key
The most important thing for Bagdai has been ensuring complete transparency with artists and event goers. "We've tried to be as honest as possible with regards to our costs and margins, each event's format, any restrictions and expectations." "Luckily, we've had a really positive response throughout and it's allowed us to build some great relationships."
Bagdai also recognises the importance of each event and the support they're providing for the wider events community. "We're aware we can't drive the kind of revenue we would normally but being able to run socially distanced events has allowed us to re-start providing a regular income to key members of staff, artists and the venue itself." "We've also been able to give back to student event goers in Nottingham and provide them with some top Freshers' events - albeit in a slightly different format."
Top tips for success
"As a yes-man, I think initially I was definitely guilty of spreading myself too thinly" Bagdai explains. "I think it's really important to understand your core audience and carve them out so you know exactly who each event is aimed at". "Also continue to look for gaps in the market," "that's how SOC DIS was brought to life".
Promotion is also a big part of the events management process. Bagdai recommends "Getting familiar with Facebook ads", he explains, "You can use Facebook ads to drive potential ticket buyers to your FIXR event page". Find out more about running successful Facebook ads with FIXR here. "Plus, it's definitely worth having a good network of reps or brand ambassadors" he adds, "I work with a network of around 50 reps in each city", "they massively support event promotion through getting the word out on the ground". We've created a step-by-step guide to help event organisers add reps to their FIXR events
Bagdai has some recommendations for running socially distanced events specifically, "Given the current climate, it's more important than ever to be patient with venues, staff and event goers". "It's a difficult time and a lot of people are frustrated, maintaining a focus on hospitality should be considered throughout planning and event management".
Take inspiration from industry pros
As a music and events lover, Bagdai is frequently looking to the wider industry for inspiration on best practice. "Shout out to Wigflex in Nottingham, those guys are never afraid to do things differently". He adds, "Their use of art installations and top graphics for Fleximodal.TV, has been stand-out - Lukas Wigflex is definitely one of the most creative event organisers out there". Fleximodal.TV is a virtual broadcasting station set-up by the Wigflex Festival and Events team, which is currently providing a livestream platform for underground music and up and coming creatives, find out more about Fleximodal.TV here
"Lakota Gardens in Bristol were also one of the first venue's to adapt to lockdown measures, they ran socially distanced events throughout the summer and have loads more lined up". Bagdai adds, "They've successfully positioned themselves as one of the most inclusive venues in the city, they cover everything from carnival, cabaret and comedy nights, whilst continuing to provide a platform for local artists and underground music".
Next steps for SOC DIS and the future of socially distanced events
"SOC DIS will continue as long as socially distanced events can run" Bagdai explains. "At the moment we're planning to continue to run our week-night events throughout October and November." "Although I am very keen to get back to normality when restrictions start to lift." "We'll start with rescheduling and hopefully looking towards the year ahead."
Bagdai wants to highlight the importance of industry backing for the #WeMakeEvents campaign, which is currently raising awareness around the additional support the industry needs from governments to survive the COVID-19 crisis. He adds "The arts have provided a point of escape for so many people during lockdown, it's fundamental that we ensure the industry survives". Find out all the latest on the #WeMakeEvents campaign here
Check out SOC DIS's full event line up on FIXR. For all things SOC DIS, check out their Facebook page

---
Running an event? It's free to list an event with us and you can start selling tickets fast. Click here to create your event now
Here to help. Hit us up with your feedback at team@fixr.co or use the live chat on fixr.co to speak to our expert team.