December Social Media Round-Up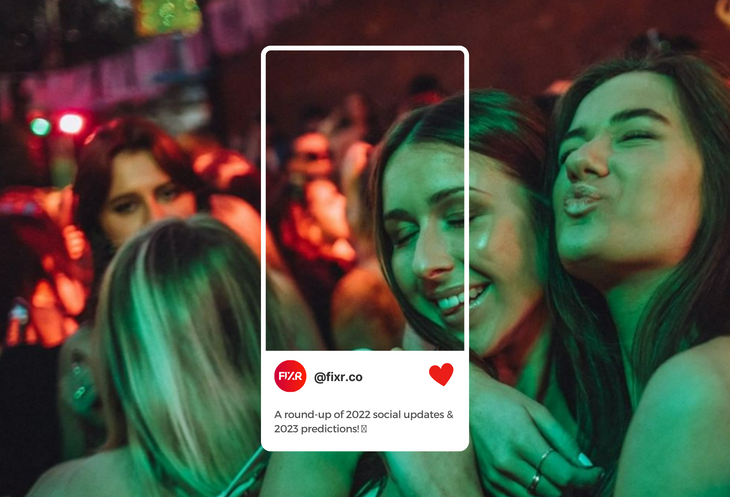 This year has been a crazy one, especially for our favourite social media apps: Elon Musk bought Twitter and kicked everyone out, in-app scheduling was added to Instagram and LinkedIn, TikTok has become a search engine like Google for many using the app and so much more!
To round off the year we've put together the last few updates that have been added, what 2023's predicted trends will look like and how you can get involved and elevate your content…
YouTube inspires TikTok
NEW! TikTok FULL SCREEN mode
😮📺

Great for long-form content… huh ByteDance? 🤔 pic.twitter.com/46HMveag4W

— Matt Navarra (@MattNavarra) December 8, 2022
TikTok is testing out a new full-width display for videos! The original 1080x1920 ratio TikTok and Instagram reels haven't stopped users from uploading square/ horizontal videos before however, TikTok is clearly noticing.
This is ideal especially when it comes to editing event footage! When we go to events it's nice to see a wider shot so potential ticket buyers can really get a good feel of the space, the vibe and what's happening in the surrounding areas. It's also great for longer-form video content too! If you've made the effort to get long-form content, split it up and make your content last longer. You can recycle all of your content by editing it to fit the right ratios for each social channel.
Top Tip: If you're an event organiser looking to capture next-level content for your socials, why not look at social media itself to source videographers! A lot of young and upcoming videographers share their content online, and many other event organisers share who captures their great content too.
Don't fear being shadow-banned again!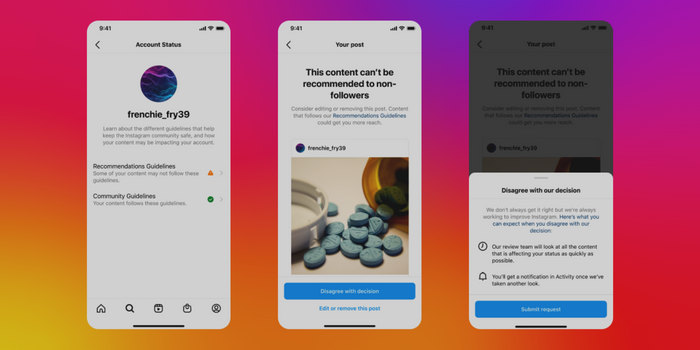 We've all been there and worried about whether the lack of engagement or views is due to our accounts getting shadowed-banned. So Instagram has decided to add an account status update where you can see if your account has been shadow-banned or not.
This new in-app dashboard will show you if there are any issues with your content that may cause the shadow ban to incur. If there is a yellow circle next to your status you can see what posts might violate Instagram's rules and change it.
Top Tip: If you've seen on your account status you've been restricted and don't understand why, you can always appeal Instagram's decision and they may change your account status back to normal sooner. For more information on shadow banning check out Later's blog here.
TikTok tests new location tags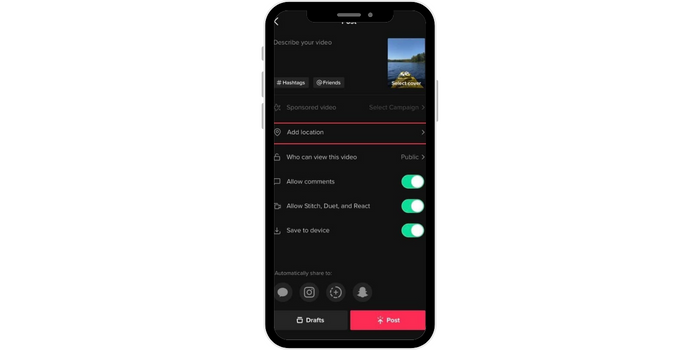 We've seen it on our app, have you seen it on yours? TikTok is trialling new location tags that will show on videos in the for you feed. As a result, users can see content from the location you are viewing.
When you are creating a new TikTok, after you add a caption, you will see a 'location' tab under 'tag people'. Here you can select the location of the video you're uploading or even where you're uploading from.
Top Tip: This is a great new way to reach ticket buyers from the location where your events will take place. You entice new ticket buyers in by showcasing content from a previous event!
A recap of 2022 social media updates
2022 was wild for social media, many new apps appeared and caused a lot of buzz, BeReal being one of them. Lots of key updates were also made like in-app scheduling for Instagram reels and WhatsApp creating a feature where you can talk to yourself. Here's a recap of some of 2022's social media highlights...
BeReal took off
BeReal became a new phenomenon and took over everyone's phones, with the two-minute time slot to submit your day's BeReal, you didn't want to be the one that posted late. It even inspired apps like TikTok to introduce their own 'BeReal' style features like 'TikTok Now'.
Instagram and LinkedIn add in-app scheduling
Instagram made scheduling reels a possibility and LinkedIn introduced new in-app scheduling for posts too. This allows social media management to be more proactive, reactive and improve event marketing performance by planning ahead.
TikTok and its collaborations
With already outperforming other social media platforms as one of the most used apps by Gen Z, TikTok introduced a number of partnerships throughout the year to further increase user engagement. From their 'StemDrop' collaboration to help out music artists to the rise of their partnership with Penguin Random House and harnessing the power of #booktok.
WhatsApp made major changes
After the first-ever WhatsApp summit in Brazil Meta announced many new features being added to the popular app like sending notes to yourself as a contact for reminders and/or appointments and a new search functionality for local businesses to be discovered easier.
TikTok inspired YouTube
With the growing use of TikTok, many social media apps evolved with short-form video times. YouTube was one of them and introduced YouTube shorts. This was introduced as a way for YouTube to keep up with the times and allow YouTube creators to eventually monetize off their short-form content on their platform as well!
Twitter's downfall happened?
New 'features' like monetization of the verification tick and how many views a tweet gets as another data metric a lot of users were complaining. However, the app is still going strong and is a great way to keep up to date with hot topics and trends to make use of in your own content.    
2023 Social Media Predictions
The digital world changes very quickly, algorithms constantly switching up on us, new features being released left right and centre but what can we expect in 2023? Here are four things we think you'll see more of in the new year:
More user generated content (USG)
People like to see other people review products and experiences before they buy into a brand. Expect to see more brands use USG as content for their pages and even a way of advertising.
BeReal hitting Instagram
With platforms like TikTok introducing 'TikTok Now' it's almost a given that more platforms will be bringing in their own form of BeReal features. Instagram have just released their own BeReal story feature, more to come on that soon!
Instagram reels get more updates
Instagram have continued to push reels content more and more towards the end of the year, with the new in-app scheduling feature and new achievement badges for reels being announced. We highly expect more updates for users to level up their reels content in the new year.
YouTube shorts become more popular
YouTube have recently announced more ways to monetize content like, links on live shorts, and running ads through shorts. With new ways creators can make money off YouTube shorts, expect to see a lot more activity coming from the app.
Want to keep track of all things social for 2023? Subscribe to get this event marketing social media round-up in your inbox every month. Create an account and opt-in or update your preferences.